Collateral & Giveaways – Do's & Don'ts
It's now about 30 days to Dreamforce. As you gear up for Dreamforce 2013, we spoke to past Dreamforce exhibitors to get the top inside tips for a successful event. Here are their best tips for managing printed material and giveaways at your booth.
Don't run out of booth materials
The experts that we interviewed recommend that you determine quantities by looking at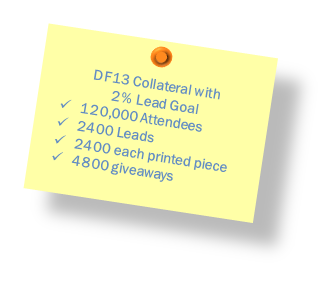 total show registration. Your lead goal is typically 1-3% of total registration. Printed collateral should equal the number of leads expected, and you should double that number for special giveaways. So if you expect to collect about 2000 leads, you'll need 2000 pieces of printed collateral and about 4000 giveaways. Adjust up or down depending on your previous show experience.
Do plan ahead
You need to ensure your print provider has ample time to produce and ship your required quantities. If your vendor is not based near the show location, you might consider shipping extras to a local employee or identifying a local vendor to ensure you can print on demand if needed. We frequently shuttle content directly to our clients who are exhibiting at Dreamforce. It definitely helps that we are right across the Bay Bridge, making it easy to provide this service for our customers who sponsor Dreamforce.
Do choose giveaways carefully
Your giveaway doesn't have to be the coolest one around, but it does have to be useful and provide value. It also helps if it is easily portable, considering many attendees will have to pack your giveaway to get it home.
While you might consider sending basic collateral via email with a link to a PDF, keep in mind that a more creative printed piece will help you stand out. Look to your existing online content for pieces that would translate well to print.
The best content-based giveaways should follow the "best practices" rules of content marketing. Physical content giveaways should provide independent but related educational value, the same basic rule you'd follow for content delivered digitally. Choose something that your audience will perceive is going to give them information that is going to positively impact their job performance and productivity.
Visually appealing digital content formats like an eBook or an infographic are typically good choices for print. You might also consider creating a small postcard with a QRC link that provides a special offer exclusively for Dreamforce attendees. Or print and pass out entry "tickets" to your event or party being held off the show floor.
One of our clients has printed and spiral bound their popular 'definitive guide' marketing e-books. These are very popular with attendees - one of their employees even told us that they saw people reading the printed e-books later in their hotel gym! This type of value-added and educational content is definitely perceived as valuable, and will be read. It will also be saved and taken back to the office to share with colleagues.
For more ideas and tips for Dreamforce exhibitors, download our eBook, "Dominating Dreamforce".
We wish our clients and all sponsors a successful Dreamforce! We're looking forward to walking the floor and seeing all of the creative marketing on the show floor.