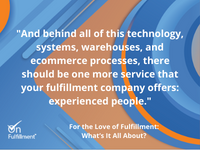 "Fulfillment" is a funny word. When you hear it, you might picture something soothing that relates to personal fulfillment – anything that brings you closer to complete happiness. (Can we get an "Om….."?)
But "order fulfillment" is a whole other story. In commerce, it describes a company, department or service that processes orders for products and delivers them.
If you're the one placing an order, and the company providing this service gets it right, you get what you ordered when you expect it, and it's in pristine shape.
Some might say that's also a kind of "complete happiness." For sure, if you don't get what you've ordered, or get it too late, or it's damaged, it's often a complete nightmare.