So you've decided to exhibit at Dreamforce this year? We spoke to past Dreamforce exhibitors to get the top inside tips for a successful event.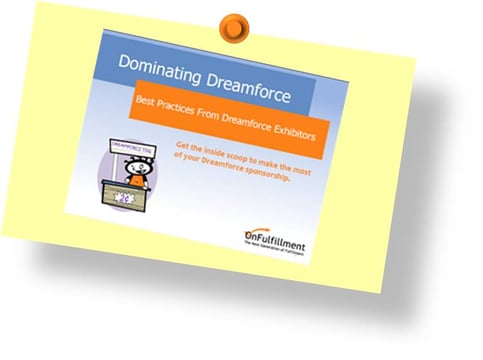 Our top 5 Do's for Dreamforce are:
1. Do Over Communicate
You can't over communicate! Communicate with your team in advance of and during the conference. Make sure everyone has the information they need to be successful, including the strategic (eg, everyone has the 30 second elevator pitch down pat) and the tactical (eg, everyone has their booth duty schedule). In-person meetings, email updates, calendar invites for booth duty, quick meetings before and after the show daily - do them all.
2. Do Develop a Message That is Both Consistent & Clever
Clever is awesome, but consistency is just as important as cleverness! A clever gimmick will get attention, but if you don't deliver a consistent and simple message, no one will understand what it is that you do. Your imagery, collateral and message all need to be consistent and clear. You have only a few seconds to grab attention when attendees are walking by your booth. Make sure the message on your signage is clear, and then make sure the elevator message delivered by your booth staff is clear and consistent as well.
3. Do Plan for the Unexpected
If you're expecting a hiccup or two, it'll be easier to stay cool and find the solution if and when problems arise. Schedule your booth set-up as early as possible. Don't wait until the last day, even if you have a small booth. The floor is typically less crowded, and it will be easier to get help from show service vendors when you need it. And make friends with your salesforce.com contacts; they will be your best resource if you do run into a snafu. Don't forget to pack your emergency kit - it will save you. Our experts recommend that you bring items like gum, water, granola bars, band-aids, scissors, tape, and comfy shoes!
4. Do Discriminate
You want to drive booth traffic, but you also want quality leads. Scanning each and every lead that comes by your booth is great. But don't forget to listen to your booth visitors to really understand their needs and their business challenges in order to qualify them. It is better to walk away with a smaller number of qualified leads that are excited to hear from you after the show, then to walk away with thousands of leads that just stopped by for your cool giveaway.
5. Do Learn As Much as Possible
You're not just an exhibitor, you are also an attendee. Take the time to walk the floor and check out the other exhibitors. Sit in on sessions to understand the salesforce.com road map, and learn more about best practices. Learn about appexchange solutions for your company to improve your own internal salesforce.com implementation.
Want more tips and tricks for DF13? We interviewed several Dreamforce veterans, and compiled their best tips. Download our new eBook, "Dominating Dreamforce: Best Practices From Dreamforce Exhibitors."