Are you planning to exhibit for the first time at this year's Dreamforce in San Francisco? Well then, get ready, get set, and go prepared.
Dreamforce, the annual technology show hosted by Salesforce, is a tremendous opportunity for tech vendors to showcase their products and services. This year's show, from September 15 – 18th, will attract over 100,000 attendees.
For first-time exhibitors, a show of this size can be daunting. That's why we've created this "What to Know Before You Go" post.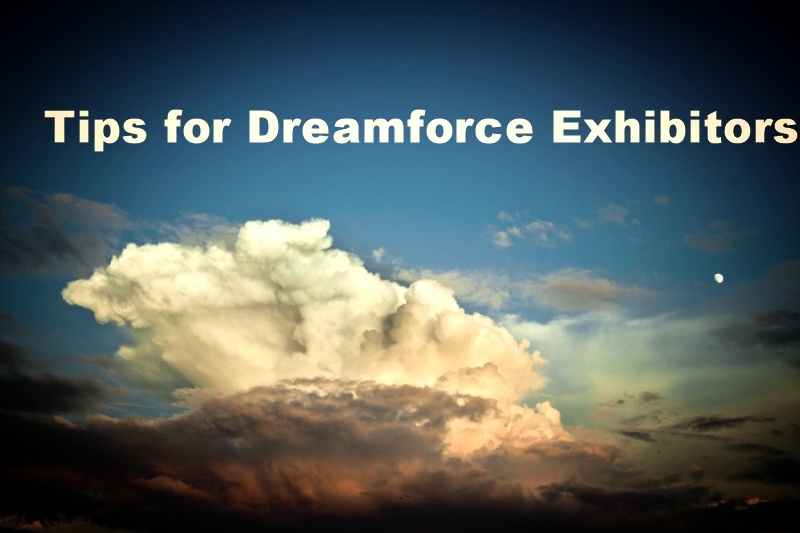 How can you prepare for your first trade show? What should your team know? What should you bring? How much post-show planning should you do pre-show? Read on…
Prepare to Network
Dreamforce is a high-energy, event-packed conference. It will be crowded, loud, and extremely fun for exhibitors as well as attendees. Think about it not only as a place to showcase your company, but a fabulous networking opportunity. What helps you make the best impression in a business setting? Look your best, be approachable, and act friendly at all times.

Exhibitors should be assertive but not aggressive. Come out from behind your display table or booth and greet attendees in a relaxed, professional way. Be talkative, not pushy.
Dress for the Part
This is San Francisco in September, one of its most glorious seasons. Leave your suit-and-tie at home. The attire will be business casual – or even your firm's branded apparel, like a company shirt and khakis. The venue (Moscone Center) is massive, and you'll do a lot of walking. Wear comfortable shoes (you'll thank us for this, ladies).
Don't Forget These Emergency Items
Aside from a good supply of business cards and other handouts (see below), you should pack a few office items, like a stapler, pushpins, tape, scissors, rubber bands, and pens or markers. If you'll be using laptops or tablets, bring an extra power cord or two. Be sure to bring a microfiber cloth and a small spray bottle with distilled water for cleaning your computer screens. Hand sanitizer wouldn't be a bad idea, either. Finally, think about where you'll store all of the business cards you'll collect during the show. A small box or some Ziploc bags could come in handy.
Printed Materials to Prepare Now
Knowing that there will be upwards of 100,000 attendees at the show, think about what printed takeaways you should have at your booth or print ahead of time.
Bring tons of business cards – even if you plan on scanning attendees' badges for their contact information, come prepared with a healthy number of cards for you and everyone else who'll help staff your booth.
Create a special postcard pre-show – it will announce your participation to your full prospect list. Consider including a PURL (Personal URL) on the postcards, giving recipients an incentive to log into their PURL and fill out a short form for a prize. Alternatively, you could ask recipients to bring the postcard with them to the show and redeem them for a special prize.
Company brochure – it's another opportunity to have your brand in front of attendees. Make sure it matches all of your other branded materials (like signage and promotional items). Keep it at a standard size or smaller – it should be light and portable, or else people will choose not to take it or will just toss it in the dumpster later.
High-value printed materials – what if you created a printed booklet that offers real value to show attendees, and which is something far above the average company brochure? It should be something they can't get anywhere else, even if they visited your site. Maybe it's a guide that shows them how to leverage your software in ways that make them more successful, much like an "idea book" that helps convince them to try your product.
QR codes are ideal – when a show is large, as Dreamforce is, it's the perfect time to use QR codes on your print materials, business cards, promotional materials (thumb drives would be perfect for this), even floor graphics that point the way to your display.
Some Can't-Ignore Promotional Items
You need some giveaways at your display table, even if they're standard items like tote bags and pens. Think about the best conferences you've been to – what were some of the most memorable giveaways?
As long as they're lightweight and portable – and branded with your company ID - think about these possibilities:
USB drives
Phone and tablet accessories
Ear buds
Stress relievers
Prepaid gift cards
Candy
Prepare Your Team
With a show of this size, you'll need reinforcements, so make sure you have enough staff on hand to last for the event. Get everyone together before hand to talk about your objectives and your approach. Staff members at conferences must be sociable and comfortable talking to strangers. They have to be engaging and pleasant at all times.
Share the News with Your Community
Before you go, tell your community! This includes emails to customers, social shares in all of your accounts, photos posted on Facebook and Instagram, and information on your web site. Send the pre-show postcard we mentioned earlier. All of this will create buzz for your participation there and get your name in front of prospects. Consider making a short video that talks about your participation and what you'll be showcasing at the event.
Plan Your Post-Show To-Do List Now
Don't wait till you're back in the office (and dog-tired) to plan your follow-up activities. Here are things you can do now:
Create a "Great to have met you" email that you'll send to people who actually visited your booth or gave you their business card. Decide how you'll segment the contact list you've collected at the show and who will follow up with each person.
Create a white paper or ebook that showcases your products and offering it as an incentive with your first or second follow-up email.
Things to Do Post-Show
You've invested a lot at this event. The follow-through is key. Consider these steps:
Meet with your team to talk about this experience and get everyone's input. What worked and what could be done differently next time? Write it down.
Write a blog post or two about your experience and what you learned, either at sessions or from interactions with attendees.
Send your existing customers an email about what you learned at Dreamforce. It's another opportunity to communicate with them.
Add all qualified prospects to your prospecting database, and flag these for a follow-up postcard campaign or email in 4 – 6 weeks' time.
This is a great start for preparing for your first exhibitor experience. All that's left to do is to rest up and get ready for the biggest software event of the year.