Employee Onboarding, Recognition & Engagement Solutions for Human Resources
Thanks largely to COVID, today's work environment is in flux. According to a 2022 study, 16% of companies worldwide are now completely remote, while 44% don't allow any remote work at all. Most others fall somewhere in between; 85% of managers surveyed expect that their teams will include at least some remote workers moving forward.
The result is a highly scattered workforce, and your company needs to adapt. How do you engage with your co-workers, build company culture, train employees, and recognize and reward your team in such a climate?
OnFulfillment helps HR executives and hiring managers engage with their teams by delivering corporate branded gifts for employees, HR swag, training materials, and personalized messages directly to their employees—wherever they may be.
With your personalized portal, we can help you deliver welcome kits to new employees, conduct reward and HR recognition programs, provide employee training documentation in both printed and electronic forms, offer custom rewards to your employees, and more.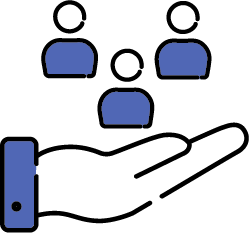 Our team of customer service representatives provides initial portal setup as well as ongoing maintenance to help keep your HR portal up and running.
Employee Onboarding & HR Recognition Programs
As an HR professional, it's your responsibility to welcome new employees and make them feel part of the team, recognize and reward exceptional work throughout the organization, and celebrate company milestones to improve morale and generate enthusiasm.
Such programs are hard enough to manage, even in the best of times. How do you do it when employees are scattered across multiple time zones around the world?
OnFulfillment is the answer. Our team of experts have decades of experience developing and managing effective new hire onboarding kits and recognition programs that reach every employee within the organization, regardless of their location.
It all begins with your company portal, where you build customized landing pages for each program or event. You can create "welcome aboard" web sites complete with important information, critical medical and financial forms, and corporate-branded onboarding gifts for new hires that make them feel valued and appreciated on Day 1.
Or you can build sophisticated employee recognition programs featuring custom landing pages personalized for each recipient and offering a choice of gifts from a pre-selected menu of items.
OnFulfillment will assign and manage redemption codes designed for one-time use, preventing program exploitation. We will also drop ship-orders from distribution centers around the globe, usually within hours, ensuring timely delivery no matter where the employee works or lives.
You can track each program from your portal. Our software offers a rich set of performance metrics and reports, including who has logged on and claimed their gifts, whether the order has shipped, and if it has been delivered. You know exactly where you stand at all times, in real time.