Tradeshow Management and Logistics for In-Person Events
With the COVID pandemic waning, live in-person events are staging a comeback. That means a return to traditional tradeshow, seminar, conference, and roadshow activities such as shipping, decorations, booth properties, printed literature, and giveaways.
OnFulfillment is poised and ready to help you start staging live events again.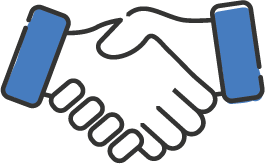 Tradeshow management begins with your personal interactive portal. Our event management tools let you easily create a page for your upcoming event, complete with all the required logistics and materials. Tradeshow managers, planners, attendees, or whoever you designate can access the page to monitor status, place orders, or manage the budget.
Event management software within the portal lets you browse available tradeshow inventory and reserve reusable items like table skirts, signage, and equipment warehoused by OnFulfillment. Literature can be customized and printed specifically for the event, in the quantities needed, reducing waste. Branded giveaways—pens, stress balls, T-shirts, or anything else—can be ordered and personalized.
Once all the necessary materials have been reserved or ordered, shipping is a breeze. OnFulfillment's team of experts will assemble and pack the items, then work with the selected tradeshow shipping companies to ensure timely and cost-effective delivery. You don't have to worry whether the materials are available or ready; OnFulfillment makes sure whatever you ordered is delivered where it needs to be, when it needs to be there. You can monitor everything online to check status at any given time, all delivered in real time.
After the event, OnFulfillment provides logistical event management services by delivering return labels to the tradeshow booth, working with tradeshow freight services, and recommending special packaging options to maximize efficiency and ensure the most competitive pricing.
Upon arrival at the storage facility, our staff will perform the necessary follow-up by inspecting all returned material to ensure nothing is broken or dirty, sending soiled items out for cleaning, and returning items to inventory so they are ready for the next event.
Let's talk about your upcoming events. Fill out the form below.
Frequently Asked Questions About In-Person Event Support
Q: What do trade show managers do?
A: Tradeshow managers are responsible for all aspects of their company's presence at the event, including planning, organizing, booth set up and tear down, materials and giveaways, and much more. OnFulfillment can help offload a number of these responsibilities, including tradeshow booth storage, logistics planning, shipping (both collateral and the booth property), procuring giveaways, and more.