Dreamforce is right around the corner. This year's technology show, hosted by Salesforce, runs from September 15 – 18th. It's just about the best opportunity for tech vendors to showcase their stuff. Expect to be wowed: there will be well over 100,000 attendees this year.
If you're an vendor from the East Coast who'll be among the hundreds participating at this show, we have some special tips for you. There really are cultural differences between the East and West coasts. Better if you're aware of them now.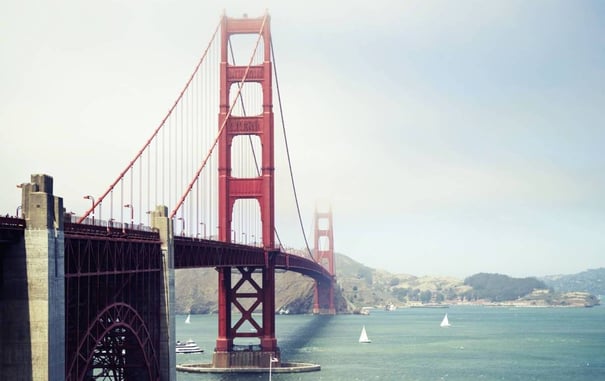 Think business casual
Suits, or even jackets and ties, may be expected at most East Coast trade shows, but not in sunny California. Keep your look relaxed and presentable.
Slow down your sales spiel
Leave your super aggressive sales pitches at home. Attendees in San Francisco expect you to have plenty of materials at your booth, but also expect you to be friendly and conversational. Pushy won't work.
Relax, chat, and enjoy the networking
Do not stay frozen behind your display table like a retail store sales clerk waiting for shoppers to make a purchase. Come out and meet people in the area in front of your booth. Be sociable. You don't have to jump right into sales mode.
Great weather and it can be cool
September in San Francisco is gorgeous. Days are typically warm (70s) but evenings can be cool. Pack accordingly. Check the weather before you fly out.
Make dinner reservations now
Dreamforce provides breakfast and lunch at the event, but you're on your own for dinner. San Francisco has some of the best restaurants in the country, so don't wait to make dining plans until you get there, or be prepared to wait.
Finally, we came across a really neat post on Mindjet about the "East Coast vs. West Coast" thing, and while much of it may be anecdotal, there's a lot of truth here:
It may seem like a cliché, but anyone who has worked on both coasts will attest that there really is a significant difference in lifestyles, business practices, and fashion accessories (Burberry scarves vs. unsullied North Face gear). When business leaders from San Francisco or Seattle fly east to meet investors and establish contacts, they find a far more aggressive business environment than they are accustomed to. East coasters are loud and opinionated and not afraid to tell you what they think. West coasters are diplomatic and conciliatory, seeking solutions, not confrontations. And while there are clear differences between the culture and business atmospheres of Los Angeles and Portland, or Boston and Atlanta, those two coastal pairings have more similarities with each other (especially demographically) than with their cross-country counterparts.
Enjoy your trip west! BTW, there's an excellent FAQ page on Salesforce.com about what to expect at the show. It's definitely worth a look.
For more ideas and tips for Dreamforce exhibitors, download our eBook, "Dominating Dreamforce".