Planning and organizing a successful event can be quite complex. Developing a theme, designing the booth property, coordinating with the show organizers, arranging shipping, staffing—there are a lot of moving parts.
One component that often gets lost in the shuffle is event collateral material. From brochures and programs to banners and promotional merchandise, event collateral plays a vital role in creating a memorable and impactful experience for attendees while helping you establish your brand.
Whether you're organizing a corporate conference, a trade show, or a charity fundraiser, understanding the various types of collateral material you'll need will help you curate an experience that leaves a lasting impression. In this blog we will define the various types of collateral material available, describe their purpose and benefits, and explain the unique role each plays in creating brand visibility, conveying information, and driving engagement.
Types of Collateral Material: The List
For the purposes of this blog, "event collateral material" refers to promotional and informational materials created specifically for a given event. While other types of collateral created for other purposes may also be used, the materials discussed here are uniquely intended for the event experience, designed to convey information and promote the event before, during, and after it takes place.
The following list describes the eight most popular types of event collateral material. Naturally, the specific items will vary depending on the nature of the event, target audience and budget.
Event programs and brochures: Printed booklets or pamphlets that provide a detailed and comprehensive overview of the event, including agendas, session schedules and descriptions, speaker profiles, sponsors, maps, and other pertinent information. These are usually distributed prior to the event to generate interest and let attendees know what to expect.
Event flyers and posters: Eye-catching promotional materials displayed in public spaces, sent via mail or e-mail, or shared on social media platforms to advertise the event and attract attendees. These materials, which include details such as dates, venue, and theme, typically feature a compelling design to capture readers' attention.
Event tickets and passes: Physical or electronic documents that grant access to the event. These usually contain essential information such as date, time, venue, and seating details and may also incorporate unique barcodes or QR codes for efficient entry management.
Banners and signage: Commonly displayed at the event to provide directional information, display sponsor logos, and highlight key event details. Not only are they functional, helping guide attendees, they also create a branded presence.
Promotional merchandise: Items such as T-shirts, caps, bags, pens—any kind of giveaway that showcases the event's logo or theme. These items can be given away as promotional gifts, sold as merchandise, or used as awards for contests.
Digital assets: An umbrella term that describes any event collateral material that exists exclusively online. This can include website banners, social media graphics, e-mail invitations, digital posters, videos, and any other multimedia element designed to promote the event and engage attendees.
Presentations and slide decks: Vital communications media at conferences and seminars, typically used by speakers to deliver information and visuals during their sessions. These materials can easily be shared digitally with attendees as valuable reference material.
Now that we've highlighted the basic event collateral material categories, the following sections will describe the features and benefits of each.
Event Programs and Brochures
While event programs and brochures do overlap, their primary objectives differ slightly. Event programs are focused on providing logistical details, guidance, and session information for the event, while brochures serve as a broader marketing and informational tool to promote the event.
In order to achieve these objectives, event programs and brochures will use different formats. Event programs, for instance, are usually designed as compact and portable booklets that serve as quick reference guides, providing a clear and easy-to-follow schedule for speakers and session details. Brochure designs and formats, on the other hand, can vary wildly depending on their purpose. They are often more visually appealing and marketing-oriented, with large images, brand elements and persuasive language to engage the audience. They also employ folded or multi-page designs to accommodate more content and visual elements.
Programs and brochures are also used at different times. Programs are handed out during the event, serving as a crucial resource to help attendees plan their day, while brochures are distributed before the event to build anticipation, generate excitement, and promote attendance. Brochures employ consistent branding elements that align with the event's visual identity, contributing to overall professionalism and credibility. of the event. They create a cohesive visual identity that reinforces the event's brand and leaves a positive impression on attendees. They also serve as a valuable reference tool after the event, helping attendees recall important session details and providing important contact information.
Event Flyers and Posters
Flyers and posters help promote the event and generate interest among the target audience by delivering key details and marketing messages as part of a visually appealing package.
Flyers and posters can be selectively distributed to help with the primary objectives of creating awareness and grabbing attention, placing them in high-traffic locations where the target audience is most likely to see them. It's a cost-effective marketing strategy that increases visibility and contributes to word-of-mouth promotion.
Once hung and displayed, posters and flyers provide ongoing and tangible reminders of the event they are promoting at no additional cost. They can also complement online digital campaigns, driving visitors seeking additional information to the event website or social media pages.
By creating awareness, attracting attention, and conveying essential event details, posters and flyers represent a cost-effective marketing tool that can reach and influence your target audience.
Event Tickets and Passes
Event tickets and passes serve many audiences—speakers, exhibitors, press, buyers, VIPs—and can take many forms: attendee, expo only, full conference. These passes are used for several reasons, for the benefit of both organizers and attendees.
For instance, passes and tickets control access to the event, ensuring only authorized individuals are admitted to help maintain security and manage crowd flow. This also helps organizers anticipate attendance and make informed decisions regarding venue selection, manage exhibitor space and other resource allocation, and coordinate logistical arrangements.
Tickets and passes also facilitate data collection since attendees must provide contact information when registering, allowing organizers to track attendance, gather important demographics, and share event details, changes, and updates. This also allows organizers and exhibitors to conduct targeted post-event marketing campaigns and follow ups, as well as assess the overall success of the show.
Event tickets and passes also enhance the attendee experience by offering various levels of access to educational sessions, workshops, and keynote presentations to select guests. This creates networking opportunities by allowing attendees with similar interests to connect and engage.
Finally, depending on the size and scale of the event, tickets and passes can generate revenue for organizers. Premium passes, such as VIP or full-conference passes, command higher prices for special access or considerations, generating revenue contributing to greater profits for organizers.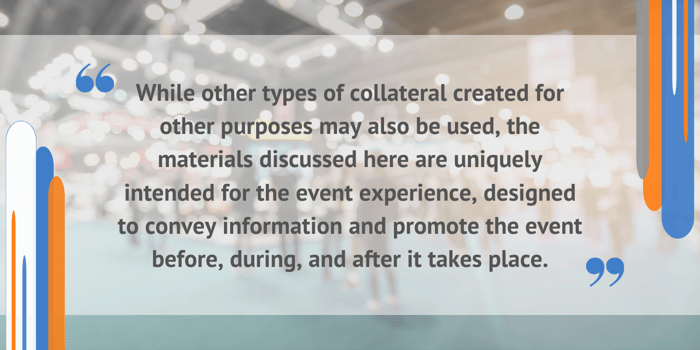 Banners and Signage
Various types of banners and signage are used at events to convey information, provide directions, attract attention, and generally enhance the overall visual impact of the show itself. Specific requirements will vary depending on the size of the event, venue layout and your unique requirements. Exhibitors often use a combination of the following signage types to communicate with attendees and establish an impactful presence:
Booth signage: Displayed within an exhibitor's booth as a freestanding banner, backdrop or wall, tabletop display, or a hanging sign to identify the company, communicate its corporate messaging, and promote the brand.
Hanging signs: Large, suspended placards featuring the owner's logo and booth number, hung above exhibitor booths so they can be seen from a distance. Such premier real estate makes it easier for attendees to find the booth in a crowded environment.
Aisle signs: Another type of hanging sign, hung above the show floor to identify aisle numbers or letters to help visitors navigate the maze of booths. These are especially useful in large trade shows with multiple aisles.
Directional or wayfinding signs: Typically deployed throughout the show floor, these signs direct attendees to various areas of interest within the venue such as registration, restrooms, food and beverage areas, seminar rooms, and so forth.
Informational signs: Strategically placed in high-traffic areas throughout the show, these signs display important details such as schedules, program agendas, session timings, speaker information, workshop locations, and other pertinent information.
Sponsorship signs: Intended to recognize sponsors who have contributed in some way to the event, these signs typically feature the company's name, logo, and level of sponsorship. Sponsorship signs are typically placed in prominent areas or near sponsored activities to ensure the proper recognition and visibility.
Digital signage: These electronic displays impart important information and promotional content through dynamic visuals, videos, product demonstrations, social media feeds and live updates. This flexible technology let exhibitors showcase engaging and interactive content to attract and engage attendees.
Floor decals: Not your traditional signage, floor decals are adhesive graphics applied straight to the trade show floor to mark pathways, highlight special areas, or promote specific products or offers. These can be a very effective way of capturing attention while providing a useful service within the event.
Registration and welcome signs: Normally positioned near the entrance or registration area, these signs make a positive first impression while offering attendees important information about the registration process, badge pickup, and event guidelines.
Promotional Merchandise
Promotional merchandise, also known as swag or giveaways, plays an important—some might say critical—role at events. They create brand awareness by providing a tangible representation of your company. The more useful the item, the greater the chance the recipient will continue to use it, increasing the number "impressions" it makes during and after the show. This extended exposure creates an ongoing marketing opportunity and increases the visibility of your brand beyond the event itself.
The right promotional item also serves as a conversation starter, facilitating engagement between exhibitors and attendees. Conversations help build rapport and establish connections with potential customers or partners, creating a more interactive and engaging booth experience.
In a crowded trade show environment, unique or creative promotional merchandise can also help you differentiate yourself from other exhibiters. It can spark curiosity and draw attendees to the booth, creating additional marketing or branding opportunities for your business.
In the best-case scenario, highly effective and coveted promotional merchandise can even cultivate a sense of brand loyalty and advocacy, turning prospects and customers into disciples for your products.
Digital Assets
Digital assets provide exhibitors with a unique set of tools and resources that enhance their presence, engage attendees, and facilitate efficient communication. These tools—from web landing pages and social media platforms to screens, tablets, and kiosks—can be used for a variety of purposes, including online promotions and pre-event marketing, booth presentations and content displays, and directional signage.
At the event, digital assets allow exhibitors to communicate with attended in real time, providing updates, announcements, or schedule changes quickly and efficiently. By ensuring attendees are informed and update, you can minimize confusion, enhance the overall experience, and make a positive impression for your brand.
Beyond marketing and promotional opportunities, digital assets can also help with your lead generation and data management activities both during and after the show. Electronic lead capture forms, mobile apps and scanning technologies help you gather attendee information and manage leads. This digital information can be used for post-event follow-up and lead nurturing efforts, as well as offer valuable insights into attendee behavior, engagement levels, and overall performance metrics. By utilizing digital tools and platforms, exhibitors can effectively measure the effectiveness of their trade show strategies, identify areas for improvement, and make data-driven decisions.
Presentation and Slide Decks
Slide decks—commonly known as PowerPoint presentations—offer a number of benefits for sharing important content at events. Aside from providing a visual aid for visitors to your booth, well-designed presentations impart a sense of professionalism to your brand while ensuring consistent messaging and branding.
Visually appealing or interesting decks can also lead to greater audience engagement, especially if displayed on a large screen where they can catch the eyes of passers-by.
Slide decks also provide attendees with a tangible takeaway from the event, serving as a reference for reviewing the content, key points and supporting visuals after the show. In fact, the great beauty of slide decks and presentations is that they can be shared and distributed, either as a hard copy or an electronic file that can be downloaded from a website. Recipients can review at their leisure, after the show, allowing the messaging to sink in. It's a resource that could pay dividends weeks or even months later, all for a minor investment.
Event Reports and White Papers
Reports and white papers serve a highly important role as event collateral material, extending beyond the event itself and contributing to the overall growth and development of the event industry and related fields.
Not only do event reports provide a comprehensive evaluation and analysis of a show's success, outcomes and impact, they serve as the official documentation of the event by capturing important details such as dates, locations, themes, agendas and participants. The information is preserved for future reference, historical analysis, or legal purposes, serving as a basis for benchmarking or comparing different events over time.
These reports also offer valuable insights and learning opportunities for event organizers and industry professionals, highlighting successful strategies, best practices and lessons learned from the planning and execution process. Detailed reports can reveal trends, challenges, and emerging opportunities for the industry, providing valuable knowledge for future engagements.
Event reports can then be spun into white papers and used as marketing and promotional assets for future events. By providing evidence of the event's value and impact, these white papers can establish thought leadership for the organizers and influence future industry conversations. Because white papers delve deeper into industry trends, challenges or findings related to the event's focus, they offer in-depth analysis, expert opinions and actionable insights that position the sponsoring organization as a knowledge leader.
As a result, white papers contribute to knowledge sharing and education within the industry, disseminating research findings, case studies and best practices to industry professionals, stakeholders, and event attendees. This creates opportunities for industry professionals to connect, exchange ideas and collaborate on future projects or initiatives, fostering meaningful connections among others in the field.
Leverage Event Collateral to Your Advantage
As you plan your next event, consider the different types of collateral material that align with your event objectives, target audience and brand identity. Tailor each piece to convey your message and evoke the desired response from attendees. Make sure to maintain branding and messaging consistency across all media to create a cohesive and impactful experience for your visitors.
Embrace the world of event collateral material and unlock the potential to create truly unforgettable events that leave a lasting impression. It will have a remarkable impact on the overall success of your event.