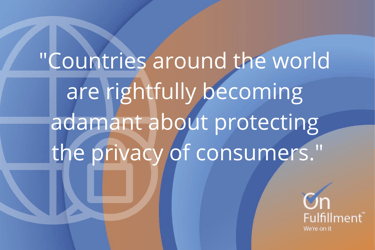 As we go through the sales and onboarding process with our customers, many will say, "sorry, but IT will have to send over a questionnaire."
While some might see this as a roadblock, our answer to this statement is, "Great!" The reason why is simple.
Inevitably, through this process, we are almost always able to identify opportunities to streamline registration and ease of use through Single Sign On and integration with Salesforce, all while strengthening and fortifying security. This is especially beneficial for our global clients, particularly in light of new requirements around personally identifiable information (PII).
Here in California, it's CPRA. In the EU, it is GDPR. Regardless of which set of governing guidelines, countries around the world are rightfully becoming adamant about protecting the privacy of consumers. At OnFulfillment, we are 100% onboard with this goal. As a result, rather than fighting and complaining, we have embraced these laws and taken all the necessary steps to ensure that our sites remain fully compliant.
80% of our clients access their portal via Single Sign On. Whether you use Salesforce, Okta or some other tool, service or platform, we can work with you to integrate. We have one client who integrates with Workday. Pretty smart idea, if you ask us, and we were more than happy to make it happen.
Many of our clients take advantage of these workflows to simplify everything from new hire kits to anniversaries to onboarding of new clients, implementing rewards programs and more. No more asking for sizes, gathering addresses or worrying about international shipments. It is all built seamlessly and securely right into the workflow.
At OnFulfillment we love a good challenge and we enthusiastically embrace both change as well as advancements in technology. So go ahead - bring on your security and compliance documents! We welcome the opportunity to develop a secure, customized solution just for you!