These days, you can no longer say that you just do promotional products. The promotional industry has become so saturated, that you now have to find creative and impactful ways to stand out. Most of our competitors started in the promotional industry and have had to adapt to new and evolving demands, such as fulfillment and print. To the contrary, we started out as a print and fulfillment company, which ultimately helped to make our service and software as intuitive as it is.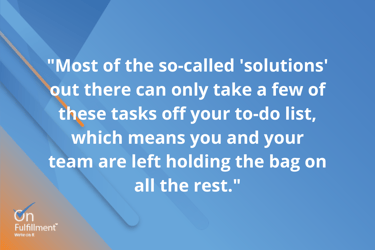 Similar to our competitors, however, we have had to adapt over the years, and we joined the promotional industry because it paired perfectly with our already well-established capabilities. Since then, we have added promotional all-stars that have also helped us grow and enhance the promotional aspect of our company while also continuing to expand our technological capabilities with our growing programming team.
And who can forget our wonderful customer service team who has kept some of our best and longest lasting customers around, year after year?
If you're wondering what makes OnFulfillment stand out from others in the industry, here are a few points to consider:
We have been doing this for 20+ years
We offer a smart platform
We understand print
We can manage events
We can handle kitting
We can store, manage, pick, pack and ship inventory
Now, a few questions for you to ponder:
Can you get someone to check all of your boxes?
Do you really have the time to set up your own web store?
Do you have the time to pull product?
Do you trust people not to take more or less than they should?
Can you afford not to know how much inventory you currently have?
Do you have the time to count it yourself?
Most of the so-called "solutions" out there can only take a few of these tasks off your to-do list, which means you and your team are left holding the bag on all the rest.
At the end of the day, you don't need a point solution or a company that "just does swag." What you need is a partner who can grow and evolve right alongside your business in whatever direction it happens to go in.
At OnFulfillment, we truly are different, because we can juggle it all! No need to have a different partner for each task. Just leave it all to us – we've got you covered!
Want to learn more? Request a demo today!