It's certainly no secret that the global supply chain is experiencing some significant disruptions at the moment. Between increasing mobility restrictions, tightening border controls, a shortage of supply and an ever-growing demand for goods, the situation is causing a serious concern for both manufacturers and consumers alike. If you're planning on purchasing some promotional items for your company, here are a few key tips to help ensure a smooth, timely and uneventful delivery.
Be Flexible
In times like these, it's important to recognize that you may not always be able to get exactly what you want. To avoid delays and disappointment, you should expand your options to include at least 3 different choices for each item you are requesting. Even if you don't end up with your first choice, at least you won't end up empty handed.
Be Ready
Inventory can deplete faster than you may realize, so if you know what product you want, it's imperative that you place your order as soon as possible. That way we can reserve it for you while we still have it in stock. If it doesn't work out during the proofing stage, we can always take it back.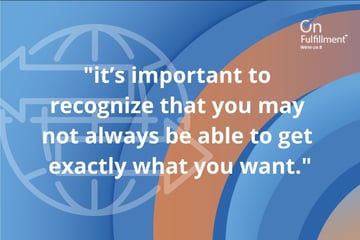 Set Expectations
To prevent potential damage to your reputation, be sure to set appropriate expectations with your stakeholders. Let them know upfront that there's a good chance they won't be getting high profile retail brands in this current climate. The good news is, there are plenty of non-retail options that resemble popular brands.
Be Mindful
Now is not the time to take chances. Instead, work with someone you know you can trust. They can let you know when they think an item you have in mind might run out quickly or which product may have more inventory coming in. They will also make you aware of pricing changes and extended turnaround times.
Keep it Simple
Let's be honest. Given the current circumstances, anything highly customized is going to weeks, if not months, to produce. Furthermore, the cost of air freight is currently 300% higher than the usual rate. Don't get too fancy or complicated with your order. Keep it simple and you'll have a much better chance of getting what you want delivered on time and on budget.
OnFulfillment has a dedicated team that is constantly monitoring the industry and knows exactly where to go for high inventory products. We are a trusted vendor for many of the top companies in the world and welcome the opportunity to serve all of your procurement and fulfillment needs.
Contact us today to get the ball rolling and stay ahead of the curve during these challenging times.