One of our largest clients is a 4 billion dollar network security company. Their Education Services team was having their twice yearly global planning session last week. About 15 people from around the globe came to Sunnyvale, California to attend the week long session. We were asked to present two major technology initiatives we have in progress with them. One is the further integration of OnSecure with their LMS System as well as allowing their training partners the use of OnSecure for their customers. The second is currently Top Secret but it further streamlines, reduces delivery costs and allows for a more personalized experience for their customers. This new offering will launch in the spring.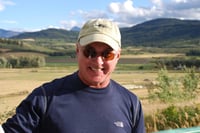 All of this is great, but what was a total surprise and great honor was our client gave COO Dan Barnett and our training operations team an award for their 24 x 7 x 365 global support of their training team.
As the customer team leader for EMEA put it, "they answer our questions before we even ask them." Then they asked our team when they sleep. This is a great honor and well deserved for Dan and his team.