All printers print well. Some deliver good quality; some deliver better quality; and some are truly stellar. But thanks to advanced printing technology, most printers in 2013 do a decent job. When looking at a buffet of print collateral, most marketers can't tell the difference between samples – or know who printed what.
You may conclude that all printers are the same. But you'd be wrong.
Aside from literally putting ink on paper (or whatever the substrate may be), printers differ based on a couple of things. There are specialty printers (i.e., letterpress printers, tag printers, publications printers, label printers, digital-only printers, web offset printers). There are retail print shops you find in city and town centers for walk-in clients needing short runs of small, personal jobs. There are printers who specialize in vertical markets. There are general commercial printers whose services begin and end with printing your materials and delivering them to you. There are printers who do small quantities and those who handle much larger ones. And not every printer offers large-format printing.
Some printers – sensing the changing needs of the marketplace – have evolved into something more. They still print. They still bind. They still deliver. But they have added capabilities both pre- and post-print, based on modern marketers' needs.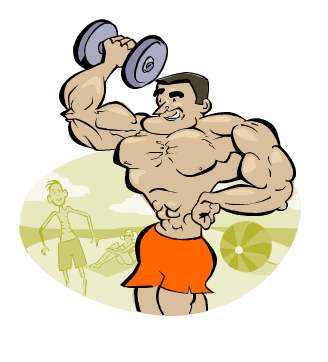 Consider them Printers Plus...or Printers with Muscle.
These printers have moved ahead of the pack of traditional commercial printers in a couple of key areas. It all has to do with serving customers better by supporting their marketing campaigns.
Printers with muscle offer variable data printing (personalized printing). This means they know about database management and integration with design templates. They can advise marketers on developing personalized print materials – early on in the planning stage.
This new generation of printers also offers web-to-print solutions for marketers. They know customers want marketing collateral systems that are available online and accessible to team members beyond their immediate staff.
These are not your grandfathers' printers.
There's another major capability that separates everyday printers from exceptional ones: mailing and fulfillment services. Year after year, these remain among the most important services offered by printing companies, as judged by print customers.
Working with a printer who has on-site mailing and fulfillment capabilities saves marketers time and money. Dealing with a sole-source provider is efficient. It's more convenient. You get expertise that encompasses direct mail issues as well as print production issues. Time-to-market is expedited, because your print collateral doesn't have to be shipped to an external mail house. Plus, you feel more secure just knowing your materials aren't en route somewhere else.
The next time you find yourself evaluating the merits of different printers in order to choose one, look for a printer with muscle – one who can help you produce materials that are personalized (and therefore more relevant) and who also offers that critical end-of-the-line process: mailing and fulfillment.
The success of your direct mail campaigns may very well depend on it.