As a marketer, you're probably being wooed by commercial print reps every week. They all promise to put customers first. They all profess to have state-of-the-art equipment. They all vow to have competitive pricing.
Can they ALL be the best, the fastest, the most reliable printer who just happens to specialize in your particular industry? Short answer? No way! It's a tough world for printers in 2013, and with over 30,000 in this country alone, you can imagine how competitive it is. Be suspicious of printers who promise you Everything.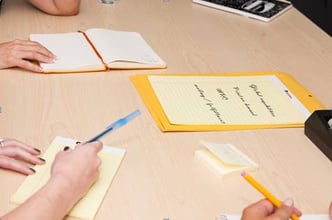 If you prepare yourself with these 10 key questions before you start interviewing your next prospective print partner, you'll save yourself tons of time – and maybe a bad partnership.
1. What kinds of print and print-related services does your company need?
Make a short list of the types of print jobs, the approximate run lengths, whether any need to be personalized, which ones might need to be mailed, and how extensive your fulfillment needs could be. Do you need offset and digital work done? Variable data printing? International mailing and fulfillment expertise? Assembly and kitting?
2. How important is it for your printer to be located in your town/region?
Will you be doing on-site press checks? Do you need to take a tour of their print facility? Will you need to meet with your rep regularly? In other words, does it matter to you where the printer is?
3. How critical is a printer's experience in working with your industry?
For some, it could be a deal breaker. Marketers in health care, pharmaceuticals, or financial services, for example, might insist on working with printers who have experience in their field. Can the printer provide relevant customer references?
4. Do you need a printer who can offer web-to-print capabilities?
Do you need a printer who can build you a branded ecommerce website for digital asset management and print on demand online ordering? These special services will help pare down significantly the number of printer "suitors" who ask to meet with you. Not every printer can offer a Marketing Resource Center with print on demand capabilities.
5. Do you need a printer who offers graphic design services or can make appropriate referrals?
Most but not all marketers have their own on-staff design team. Occasionally, they don't, and they want to work with printers who either offer this service directly, or one that has a network of graphic design resources available.
6. How important is a printer's social media and other e-media expertise?
If you need a printer partner who can handle multi-channel campaigns for you, it's absolutely critical that a printer can validate his or her expertise in other media, such as email, personalized URLs (PURLs), and SMS.
7. Will the bottom line dictate who you partner with?
In other words, if you're mandated to go with the lowest-bidding printer, be aware of it from the outset.
8. How important is a printer's customer education efforts?
Some marketers rely on printers to educate their team and even other units in their company. Others don't put a premium on this information. How much does it matter to you?
9. How much value do you place on a printer's track record of bringing innovative ideas and creative concepts to your company?
This is one of those qualities that is harder to come by than you would think. Today's marketers prefer to work with this kind of printer – to help differentiate them from their competitors.
10. Are you looking for a long-term business partnership or a "casual" printer?
If the answer is for a "casual" printer, you can skip most of the previous 9 questions. Most commercial printers deliver good quality work fairly quickly. You don't need to invest a lot of time looking for a printer to do a few jobs now and then for your firm.
These are smart guidelines to help marketers prepare to interview commercial print sales reps. Answer them honestly, and you'll be in a terrific position to know exactly what (and who) you want to handle your printing.
If you're in the process of interviewing commercial printers, please give us a call.