You may be a bona fide marketing professional, but if your job includes getting your company's trade show materials printed, or you've been tapped to find a resource for a variable data postcard campaign, guess what? You're a print buyer. Congrats!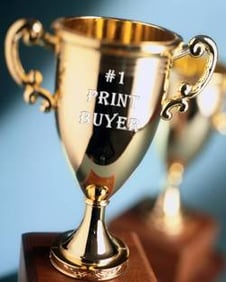 You're not alone. More and more marketers are assuming print-sourcing responsibilities. And most have zero experience working with commercial printers.
We'll be doing a series of posts this spring to help familiarize you with this wildly misunderstood industry.
For starters, keep the following 8 facts in mind:
1. Majority of US commercial printing firms are small family-owned businesses
According to PIA (Printing Industries of America, the industry's largest trade association), 6 out of 10 printers are family owned, meaning there are 28,000 family businesses in printing.
2. You can't tell from a company's name if it's a printing establishment.
Visit the web site to learn more. Some are manufacturers. Some are print brokers. Some are print distributors. Some are print management firms. Some are trade printers (meaning their customers are other printers or even graphic designers, as opposed to end users). Printing firms have been changing their names over the past several years. Bottom line: this makes it difficult to do a blind search for a printer if you don't know the industry.
3. Printers don't all do the same thing
Depending on their equipment and other capabilities, they may be better suited to particular types of work (marketing collateral, catalogs, training manuals, books, magazines, packaging, labels, and so on). Find a printer that's a good fit for the work you need done. If the fit isn't right, you'll pay too much or get a product you're unhappy with.
4. Printing firms no longer have words like "print," "printing," "litho" or "graphics" in their name
The industry's been evolving as business communications needs have changed – and digital media have grown. It makes the search that much more difficult for marketers new to print buying.
5. Take the time to find and interview a small number of printers
Make sure you've chosen the ideal partner. Every company needs some sort of printing produced, and professional print buyers always prefer to build long-term relationships with a handful of printers rather than shop around with every new project. It makes sense. (Check out our previous blog about How to Interview a Printer.)
6. Ask for recommendations
Ask your peers and colleagues for recommendations when you need a commercial printer, especially those who produce the same sorts of materials you need.
7. Working with printers means there's a ton of details that have to be discussed and decided
So expect to get asked lots of questions or to fill out a lengthy estimate form for a printer. A print job's price and manufacturing schedule depend on how simple or complex it is. Each job is built "spec by spec," and customers need to supply every spec (specification) or work with their printer to build the specs together.
Be as prepared as you can be when you start your search for a printer. We did a blog last fall called, "10 Questions to Ask Yourself Before Hiring ANY Printer," and this is a great resource for anyone new to print buying.
These tips will prepare you for your new role as print buyer, whether it's occasional, part-time, full-time or just a one-time-assignment. Print marketing is still an effective channel for just about every industry, especially if you combine print with digital or social media. The first step is finding the perfect printer to partner with. When you do, you'll feel the stress start to fade right away.