This is the fifth and final installment in our "product fulfillment vs. marketing fulfillment" blog series. If you're new to this particular topic and want some background, we suggest you visit our blog page and read the previous entries, starting with the introductory "Product Fulfillment vs. Marketing Fulfillment: What Do You Need?" The other three—titled "Product Fulfillment vs. Marketing Fulfillment: Which is Best for Receiving?", "Product Fulfillment vs. Marketing Fulfillment: Pick & Pack," and "Product Fulfillment: Which Offers Better Support and Flexibility?" can be read in any order you like.
In this final segment, we're taking a look at how product and marketing fulfillment differ in terms of reporting.
How Do We Define Reporting?
For the purposes of this blog, we define reporting as the ability to provide both real-time and historical visibility into your account activity. Exactly what is reported, and in how much detail, is the crux of the discussion.
The value of the information included in these reports is rather subjective and will help you decide which approach—product fulfillment or marketing fulfillment—is best for your organization. Some people feel too much detail complicates their ability to make informed decisions and a high-level overview is sufficient, while others want access to as much information as they can get to keep their business running at peak performance. You will have to decide for yourself which side of the argument you are on.

What's the Difference Between Product and Marketing Fulfillment?
At the risk of sounding redundant, product fulfillment focuses on the act of delivering products to recipients regardless of the purpose behind the effort while marketing fulfillment delivers materials in support of marketing activities such as lead generation, sales, and relationship building. For more background on this subject, please read the first installment of this series.
To simplify the discussion, product fulfillment vendors simply follow directions, sending materials provided by you, the customer, to addresses also provided by you. They provide no quality assurance or other value-added services; they are merely a cost-effective way to package and send materials to your target audiences.
Marketing fulfillment vendors, on the other hand, offer more comprehensive services designed to support your overarching marketing goals, specifically generating leads and increasing sales. These vendors essentially act as a virtual extension of the marketing organization, temporarily back-filling positions and performing tasks as required. They charge a premium for these services, and for organizations that don't have the staff or expertise required to execute such a campaign on their own, the extra cost is worth it.
If additional background is required, please read the other installments of this series which are linked above. In the meantime, let's look at how these differences apply to support and flexibility.
Reports Offered by Product Fulfillment Vendors
All vendors are different. Therefore, it would be misleading to imply that we can paint them all with the same broad brush with respect to the level of reporting they offer. However, by virtue of the role they play in your marketing efforts, it's safe to say that the vast majority of product fulfillment vendors are limited to providing a rather shallow level of detail with respect to your activities.
This is due to the fact that, with product fulfillment vendors, most interactions with their customers are transactional—that is to say, you hire them to perform a specific task. Once that job is done, the relationship, for all intents and purposes, ends—at least until the next project comes along.
As a result, product fulfillment vendors are typically restricted to providing insight into the current task. They can tell you what has been received, the current inventory level, what has shipped, and the status of each shipment. If you've worked with the vendor before, they should also be able to provide historical data about these earlier projects. However, unless there is some connection between these various activities, they exist in siloes as independent projects within the vendor's system. It's up to you to interpret the data and connect the dots to glean any historical perspective.
In other words, the reporting offered by product fulfillment vendors just skims the surface, offering very basic data. If your organization is not metric-driven, this level of detail may be just fine. It's a more cost-effective approach, and if you can live with basic reports—or if you have people on staff who can extract critical information from a limited pool of information—then a product fulfillment vendor might be just what you need.
Reports Offered by Marketing Fulfillment Vendors
Marketing fulfillment vendors, as you might suspect, offer all the same reporting services as product fulfillment vendors plus a whole lot more. Since the marketing fulfillment vendor is typically involved in many facets of your marketing efforts, reports can show you how activities are impacting one another and, more importantly, help you make informed decisions that ensure your objectives are being met.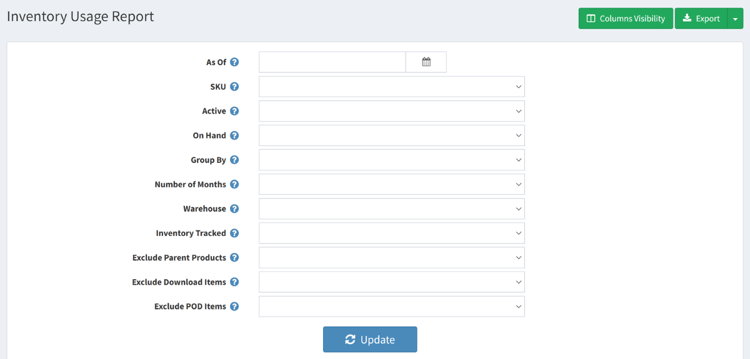 For instance, OnFulfillment offers its customers literally hundreds of inventory, usage and order reports related to printed collateral, branded merchandise, shipping, event management, pick-and-pack and assembly projects, customer reward and employee recognition programs, and more. Even credit card inquiries and other payment methods by customers are recorded for later review.
Scores of filters can be applied to each of these reports, providing both real-time and historical views that offer increasingly deep dives into your activities. You can slice, dice and segment the data any number of ways to achieve just the view and time frame you are looking for, delivering the metrics your team needs to analyze past campaigns and, based on that information, plan future promotions.
Because everything is integrated, you gain a complete 360-degree view into your account, both past and present, allowing you to plan and schedule activities with confidence. For instance, if you're planning an event, you can see what has shipped, when it arrived, and when it's due back in inventory, allowing you to commit those materials to a future event.

You can also see what printed collateral or branded swag is in inventory and what anticipated demand will be on a rolling basis—critical for understanding when to reorder materials to avoid any outages or rush production charges for future campaigns.
Internally, the reports can also help you stay on budget by telling you what different departments or individuals are ordering, what they have spent, which cost centers are impacted, and whether chargebacks are warranted.
All OnFulfillment reports are also customizable to show only what the customer wants to see. For instance, Marketing staff may only be interested in collateral inventory, printing and shipping while Sales focuses on branded merchandise and Accounting monitors spending against budget. Deep-dive insights into each are readily available, and interests can be adjusted on the fly to provide additional visibility as needed.
While the reports discussed above describe what is available through OnFulfillment, they are not necessarily unique to this particular company; most marketing fulfillment vendors will offer the same level of reporting, or at least something close to it. When researching potential partners, be sure to ask about the level of reporting available so you can choose the company that is best aligned with your needs.
Which Approach is Best for Your Organization?
What level of reporting does your organization need? If a high-level overview of basic inventory and shipping is sufficient, then a product marketing vendor will be a more cost-efficient solution.
However, if you are running multiple integrated campaigns and other activities and events, all relying on the same base set of materials, a deeper, more comprehensive view into inventory, shipping and return dates, budgets and more will justify the extra expense of a marketing fulfillment vendor.
If you need help deciding which approach is best for you and your organization, OnFulfillment would be happy to discuss its reporting capabilities in greater detail to provide a more complete picture of what you'd be getting—and what you'd be missing.
Just schedule a meeting and we'll take care of the rest.