You've heard us say it before, and we'll continue to say it: events are making a huge comeback.
Pent-up demand following the COVID-inspired shutdowns has driven companies back into events, primarily in-person gatherings. In fact, most of our new customers over the past year originated as a request for assistance with their event management responsibilities.
To capitalize on this trend, many of our competitors have started advertising themselves as event fulfillment and management providers. Never mind that, up to this point, these gifting platforms have focused almost exclusively on producing and mailing branded merchandise. When they see a business opportunity, they jump on it.
This is a dangerous precedent for the marketing fulfillment industry. There is a lot more to event management than meets the eye, and just because demand is high, it doesn't mean companies with no history or background in this particular discipline are qualified to fill the gap. In fact, it could even pose a significant risk that certain tasks and requirements will go unfulfilled, leaving unsuspecting customers to do the work and perform the various tasks they assumed they were outsourcing.
Unfortunately, customers with equally limited exposure to and understanding of event management may be unwittingly convinced to go with an untested vendor. In the end, they are the ones who will suffer for their partner's lack of expertise.
Experience Matters
As with most special services, experience matters with event fulfillment and management. This experience is developed over years, constantly honed, and modified and refined until it is as close to perfect as possible. Then it's honed and modified and refined some more, smoothing out any rough edges to eliminate any wasted time, effort, or money.
These gifting platforms that have recently declared themselves event management "experts" haven't put in the requisite time or resources required to become a valid or proven provider. To put it bluntly, just because you have a warehouse and can ship and receive materials, it doesn't qualify you to offer event management services.
So how can potential victims avoid being taken advantage of by these event management frauds? Here are a few suggestions for separating the experts from the imposters.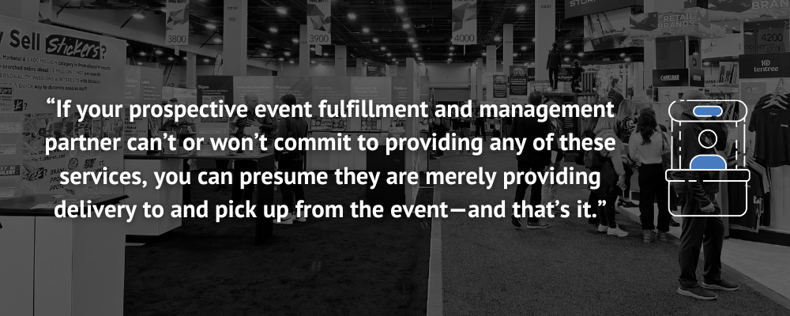 Ask the Right Questions
The easiest way to identify the right partner for you is to ask the right questions. Some are obvious; others are more subtle but go a long way toward exposing the posers.
The first question is the easiest: how long have you been offering event fulfillment services? If the answer is less than a year or two, end the conversation right then and move on. They clearly haven't had time to develop and perfect a reputable offering.
Second, ask about their shipping capabilities. When it comes to events, do they offer overnight shipping, or do they require several days for materials leaving the warehouse to arrive at the venue? If it's the latter, it's clear their offering is nothing out of the ordinary. Presumably they merely apply the same timelines used for shipping branded merchandise to their event management services. This is fine if everything is well planned and executed to perfection, but that is rarely the case with events. If overnight shipping is not an option, you are taking a chance.
Third, do they provide pre-printed shipping labels for the return trip back to the warehouse, or do you have to create those yourself at the end of the event? That makes the difference between simply packing materials up and walking away, and having to wait in line, get forms, fill them out, apply them to the boxes, and scheduling pick up. This takes far more time (and effort) than you might imagine.
Fourth, what level of support do they offer? Do they review materials before they go out to ensure they are clean and complete? Do they inspect those same materials before they are returned to inventory, checking for damage, and repairing them if any damage is found? Do they have washable items like table drops dry cleaned upon return to guarantee they are clean for the next event?
Fifth, do they offer software-based access that allows you to manage and oversee event fulfillment tasks such as review available inventory, reserve materials for future use, order print-on-demand collateral in the quantities you need, and more? The lack of visibility into your project should be a significant red flag.
Sixth, do they assign a dedicated customer service representative (CSR) to your account—someone who is committed to making sure all your event details are taken care of, right down to hand delivering items the day of the event if needed? This personal touch is important, especially for those customers who don't have a lot of experience with event management. Having an expert available to help as needed can make all the difference in the world.
If your prospective event fulfillment and management partner can't or won't commit to providing any of these services, you can presume they are merely providing delivery to and pick up from the event—and that's it. They are merely defaulting to their strength: shipping materials. The details—critical to a successful event—are lost.
Read the Fine Print
Clearly, "shipping" does not constitute a comprehensive event management offering. True event fulfillment is built upon prescribed processes, all designed to address and satisfy customer expectations.
When considering a new event management partner, be sure to read the contract, especially the fine print. This is where the details are hidden. If the vendor does not address or sufficiently satisfy your requirements, you need to look elsewhere.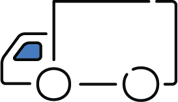 Event Management Expertise from OnFulfillment
Unlike the newcomer gifting platforms, OnFulfillment has been doing event management, fulfillment, and support for more than two decades. Our all-in-one event management software platform delivers cutting-edge event fulfillment, support, and execution services, empowering you to plan, manage and conduct successful in-person, as well as virtual and hybrid events, from a user-friendly platform.
By offloading tedious and time-consuming tasks, OnFulfillment lets you focus on strategic priorities to ensure a more successful and efficient event. Our software portal lets you exercise complete control over every aspect of your event, including reserving, ordering, and customizing tradeshow materials; scheduling shipping and pre-printing return labels; tracking inventory and location; and monitoring everything through real-time reporting. A dedicated CSR helps keep everything on track and ensures that any problems are quickly addressed and resolved.
These services are spelled out in our standard contract, so you know exactly what to expect. You get the benefit of our 20-plus years of experience, which means you never have to worry about the small but important details that can make the difference between a successful event and a disaster.
Let us show you everything we can do to help with your event planning and management.