In the first installment of this "product fulfillment vs. marketing fulfillment" blog series, we described the differences between these two approaches and discussed why one might be superior to the other under certain circumstances.
For the next several weeks, we will dive deeper into this topic and explore how product fulfillment compares to marketing fulfillment with respect to specific activities such as storage, pick-and-pack operations, support and flexibility, and software and reporting. In this installment, we will focus on receiving.
What is "Receiving"?
In the context of product and marketing fulfillment, "receiving" is a critical first step in the supply chain. It refers to the process of accepting and recording incoming materials from suppliers or vendors, typically at a warehouse or distribution center.
The process involves several steps, including physically inspecting the materials to ensure their integrity; verifying the received items match the quantity and description in the purchase order; documenting relevant information to create a record; labeling or tagging the incoming materials for tracking purposes; and entering the items into inventory.
So how does the act of receiving products differ under a product fulfillment environment vs. a marketing fulfillment environment? Let's take a look.
Product vs. Marketing Fulfillment: A Reminder
Before we look at how receiving differs under these two approaches, let's revisit how product fulfillment differs from marketing fulfillment.
In the opening installment of this series, we reported that product fulfillment refers to delivering products to recipients after they have been purchased. The process employs inventory management, order processing, and shipping and delivery to ensure the right product is shipped to the right customer in a timely manner. The reason for the delivery is irrelevant—the goal is to simply get the product into the right hands.
Marketing fulfillment performs many of the same tasks, but specifically for marketing activities intended to generate leads, drive sales, and build customer relationships. These can include the creation and distribution of promotional materials (collateral or branded swag), direct or e-mail marketing campaigns, or coupon and voucher redemption programs. It's a more comprehensive operation for companies that requires that level of integration.
To illustrate the differences, we used the analogy of building a house. Using a product fulfillment vendor is the equivalent of acting as your own general contractor; the vendor's only responsibility is to get the house built using the resources you provide. A marketing fulfillment vendor is the general contractor, hiring all the subcontractors, scheduling their activity, and making sure the final product meets your expectations.
How do these differences apply to receiving?
Receiving as Managed by a Product Fulfillment Vendor
If your company has sufficient resources, you may opt for a product fulfillment vendor. In this case, you will be responsible for providing an advanced shipping notice (ASN) to the vendor so they know what to expect and when they will be receiving it. You will also be required to add barcodes to all incoming items so they can be recorded and warehoused accurately by the vendor.
Each separate SKU will need to be packaged in its own separate box to avoid mixing parts and creating confusion. This expedites the storage process and makes it easier to quickly find and ship products when the time comes.
Finally, when employing a product marketing vendor, you must accept the risk of "good faith" receiving—that is, you trust the shipper to send the right materials, in the right quantities, and based on the schedule you agreed to. That's because the product fulfillment vendor will not be performing any physical inspections or verifications; that's not part of the job. Their responsibility is to simply accept labeled items, enter them into the system, and place them in inventory. If there's a problem, it's up to you to find and correct it.
If you trust your other vendors—your "subcontractors," so to speak—and are confident that the right products, in the right quantities, will arrive properly coded and separated, then a product fulfillment vendor might be the right choice for you. It's a more cost-effective approach for companies that have the expertise and resources required to manage all the preparation and organization that precedes shipping materials to the fulfillment vendor.
Receiving as Managed by a Marketing Fulfillment Vendor
If your company doesn't have the time, budget, or resources to manage all the pre-shipping activities, or if you simply want a partner with the expertise to help you execute an effective campaign, then a marketing fulfillment vendor might be the way to go.
For starters, responsible marketing fulfillment vendors perform all the logistical tasks that product fulfillment vendors offload to customers. For instance, they will manage all ASNs and perform a full quality assurance inspection on all received items. Since they will have a thorough understanding of incoming materials, no barcodes are required; they will be assigned and applied by the vendor later, as needed.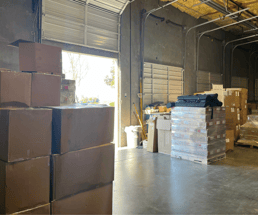 Additionally, all incoming items can be combined into one or several boxes. There is no need to segregate separate items into different containers; the vendor will count, itemize, and inventory them once they've been inspected and verified.
There are also intangibles that the marketing fulfillment vendor can offer. With decades of experience on staff, the vendor can provide assistance and make recommendations to make your campaign more effective, or proactively detect and mitigate potential problems that you might never notice. Finally, by having relationships with other companies that offer related services ranging from on-demand printing and event support to branded merchandise and shipping, your marketing fulfillment vendor can help you leverage those partnerships and extend your capabilities.
These services will cost more than a product fulfillment vendor, but for companies that don't have the resources to backfill those responsibilities, it might actually be more cost effective than adding headcount.
Finding the Right Partner
Deciding whether to go with product or marketing fulfillment, whether for receiving or anything else, is just the beginning. Finding the right partner, regardless of which direction you go, is even more important; it can make the difference between success and failure.
OnFulfillment would be happy to discuss the services it offers and help you decide which approach is best for you and your organization. Just visit contact us to request a demo.
In the meantime, keep watching this space—new installments are coming that will discuss the differences between product and marketing fulfillment with respect to storage, support, reporting, and more.