In this third installment of the "product fulfillment vs. marketing fulfillment" blog series, we will be exploring which approach is best for pick-and-pack and storage. If you haven't read the previous entries and need some background, you might want to start with the first, "Product Fulfillment vs. Marketing Fulfillment: What Do You Need?" The second installment, "Product Fulfillment vs. Marketing Fulfillment: Which is Best for Receiving?" will also provide important context.
In the coming weeks, we'll take a closer look at activities such as support and flexibility, software, and reporting. Revisit this site regularly for updates.
What is "Pick-and-Pack"?
In the parlance of fulfillment, "pick-and-pack" describes the process of retrieving, selecting, and packaging items to fill customer orders. The "pick" stage involves locating the requested items and retrieving them from inventory, typically in a warehouse. Whether this is performed manually by workers or automated using robotic systems and barcode scamming, the objective is simple: gather all the items for a particular order.
Once the items have been picked, they are carefully "packed" into boxes or containers for shipping. This might require additional packaging material like bubble wrap or void fill such as Styrofoam peanuts to protect and secure the items during transit. The packaging stage also involves labeling each package with shipping information, order details, and tracking numbers.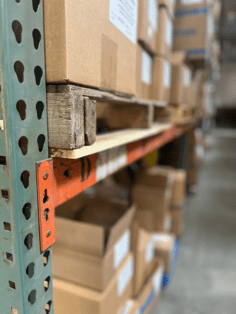 Storage plays a critical role in the overall pick-and-pack supply chain process. Hundreds if not thousands of items must be organized and stored until they are needed for future orders. Depending on the size and layout of the warehouse, these items might be placed on racks, stored on shelves, or kept in designated bins or zones. Wherever and how ever they are stored, they must be easy to find when needed. This demands proper storage practices such as efficient inventory management and tracking systems to ensure the timely fulfillment and delivery of orders.
Will a product fulfillment approach treat the pick-and-pack and storage process differently than a marketing fulfillment environment? As expected, there are distinct differences.
The Difference Between Product Fulfillment and Marketing
For a more complete understanding of the differences between product fulfillment and marketing fulfillment, please revisit the first installment of this series.
For a quick refresh, in that first blog, we explain that product fulfillment focuses solely on delivering products to recipients after they have been purchased while marketing fulfillment delivers materials in support of marketing activities such as lead generation, sales, and relationship building.
To explain the difference, we use the analogy of building a house. Using a product fulfillment vendor is like acting as your own general contractor; the vendor's only responsibility is to get the house built using the resources you provide. A marketing fulfillment vendor is the general contractor, hiring all the subcontractors, scheduling their activity, and making sure the final product meets your expectations.
Now let's explore how these differences apply to pick-and-pack and storage.
Pick-and-Pack and Storage with a Product Fulfillment Vendor
Running a pick-and-pack project through a product fulfillment vendor could be the way to go provided you have the staff and resources required to make it work. You will be responsible for providing the items and directions; if the right quantities are supplied and the directions are clear, it might be a very cost-effective solution for your organization.
Since a product fulfillment vendor will only be packing what you tell them to, each item going into the shipment will require a visible barcode to eliminate any guesswork. Once the items are assembled, the product fulfillment vendor will assume they have been properly vetted and cleared prior to arrival, so no onsite QA inspection will be performed.
As the customer, you will also be responsible for choosing and providing the packaging beforehand. No adjustments can be made on the fly should any packing issues arise at the assembly area. Same goes with the contents; if they are not provided, in the correct quantities, they will not be included.
Special labeling—say, for events—is not supported. The vendor can only work with the information, such as names and addresses, that you provide upfront. There are no provisions for accommodating tweaks or other unique requests.
Not surprisingly, product fulfillment vendors do not provide dedicated material handlers to run interference, troubleshoot problems, or generally represent the customer onsite during the package assembly process. With this approach, pick-and-pack is an assembly line operation that requires a well-oiled supply chain to feed it.
As with the receiving blog, if you can trust your other vendors to supply the right products in the right quantities, all properly barcoded and with the proper packaging, then a product fulfillment vendor might be the right choice for you. Again, it's a more cost-effective approach, especially for organizations that run dozens of such programs at any given time—and those with the inhouse expertise and resources needed to set the vendor up to succeed.
Pick-and-Pack and Storage with a Marketing Fulfillment Vendor
If you're looking for something more than just a well-oiled machine—a partner who can lend their expertise to each pick-and-pack project—then it might be a marketing fulfillment vendor you need.
First, since they will be the ones pulling materials from inventory, there is no need for you to apply barcodes to each item; you simply tell them what you want to include and how many. Every item will be picked, counted, and QA'd prior to packing; if any problems are discovered, they will be corrected immediately, onsite.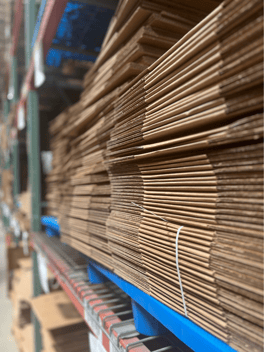 Special labeling is also supported. Since the entire pick-and-pack and storage operation is contained under one single roof, the ability to improvise, adjust, and accommodate is a relatively easy process. Customization is special service that marketing fulfillment vendors are uniquely prepared to provide.
Additionally, packaging decisions are based on efficiency and cost, not on convenience. The marketing fulfillment vendor will help you source the best possible packing material to ensure the safety and security of the product for the lowest possible freight costs.
The entire operation is overseen by a dedicated materials handler—one who represents the customer and looks out for their best interests. Any glitches, oversights, or other mistakes are quickly identified and rectified or, if required, brought to the attention of the customer for their input. Decisions are made thoughtfully but quickly to keep schedules on track.
Such special services come with a price, and they will cost more than a typical product fulfillment vendor. However, when weighing out the options, it's important to factor in unseen costs to understand the overall impact on the bottom line. For instance, even though a marketing fulfillment vendor will cost more than product fulfillment, the additional services they provide mean your staff can focus on more important and strategic tasks than managing a pick-and-pack supply chain operation. For small organizations with limited headcount and fewer resources, it might make sense to spend a little more a few times a year than risk paying a lot more should things go wrong.
The Right Partner Makes the Difference
Deciding whether to go with product or marketing fulfillment, whether for pick-and-pack and storage or anything else, is just the beginning. Finding the right partner, regardless of which direction you go, is even more important; it can make the difference between success and failure.
OnFulfillment would be happy to discuss the services it offers and help you decide which approach is best for you and your organization.
Keep watching this space—new installments are coming that will discuss the differences between product and marketing fulfillment with respect to support, reporting, and more.