Event managers have a tough job. They are responsible for every trade show, seminar and conference in which your company will participate. That's a lot to handle.
It's even more impressive when you consider that each of the events these managers oversee are composed of multiple components and moving parts. There are promotional items, signage, displays, demos, printed collateral, and much more. Add staffing to the equation, including arranging accommodations and both short- and long-distance travel to and from the events for potentially dozens of people, and it's easy to see just how overwhelming and stressful it can all become. Simply put, event managers must be exceptionally skilled at juggling multiple tasks simultaneously in order to pull it all off successfully.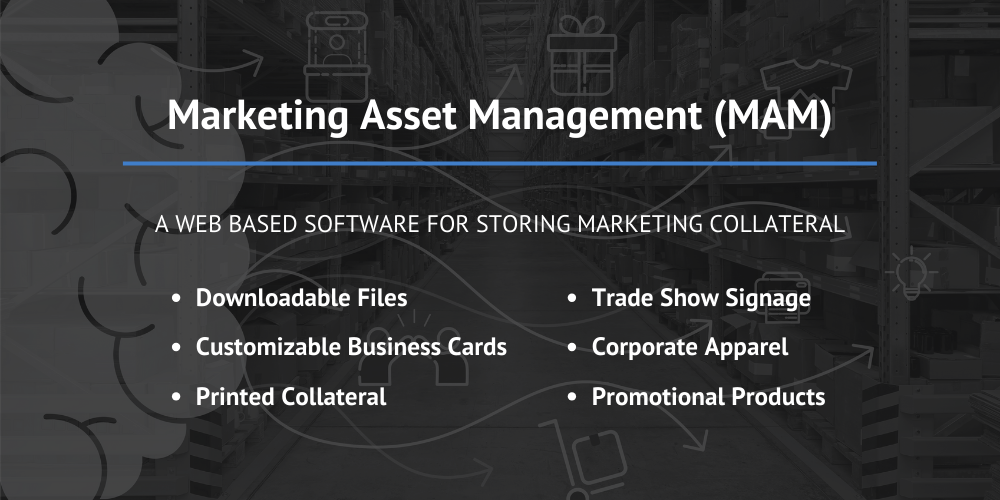 Lightening the Load
There is a solution that can reduce the burden on event managers' shoulders. It's called Marketing Asset Management.
A worthwhile Marketing Asset Management (MAM) system allows managers to oversee and keep track of all their corporate materials and resources, including those used for events. The system shows how many of each item are in inventory, their current location, when or if they are scheduled for use, and when they are due back to the warehouse. By knowing both the current and future status of these items—pop-up banners, table skirts, signage and the like—event managers can strategically reserve materials for upcoming events or order new inventory as needed, ensuring they're never caught short. Not only does a MAM make it easy for managers and their teams to access and monitor event materials, it also allows them to process orders, track shipments, and manage inventory—all from their desktops, tablets, or even their phones.
Access is not limited to event managers. Anyone with a vested interest—for instance, regional sales teams in an event's location or product marketing managers responsible for producing the necessary literature—can selectively be given access to monitor or report activity and progress.
Ordering What's Needed
Every event is unique, designed for a specific audience, location, or technology. That means a cookie-cutter approach won't work; you need to tailor the content and messaging to resonate with the attendees.
A MAM solution allows you to select and custom order printed marketing materials that are optimized for your event, in just the quantities you need. These materials can include brochures, business cards, fliers, invitations, newsletters—anything that speaks to the people who will be visiting your booth.
You can even commission items specifically for the event itself, creating a truly custom experience for visitors. Event marketing campaign and other templates can be stored on your MAM system, making it easy for you and your team—working in conjunction with your graphic design and corporate marketing teams, if required—to produce a customized event-specific handout or flyer. These new items can even be co-branded with partner logos if needed and uploaded to the MAM system for production. You simply upload the files, submit an order to the print service provider for the quantities you need, and include the necessary shipping information. The items will appear at the event on the appointed date.
All of this activity is performed through the MAM portal, allowing you to manage and schedule literature production and delivery online, right from your desktop. Each job can be tracked individually so you always know the current status of each piece that's being produced. Print-on-demand capabilities allow you to produce only the quantities you need, reducing or even eliminating waste.
If you want to use existing collateral that is produced in bulk and stored in a warehouse, a marketing asset management system will allow you to see current inventory and provide historical usage reports so you can determine whether the quantities you need will be available when you need them. Or you can order the items you need prior to the event; that way, you ensure reprints will be ordered if inventory drops below a certain threshold to guarantee sufficient quantities will be available when needed.
What Else Can a MAM Do for You?
The benefits of a MAM extend beyond just reserving resources or literature for upcoming events. Having a marketing asset management system that is integrated with your warehouse or fulfillment partner offers the following advantages for your business:
All your physical event materials are stored in—and monitored from—a single place. When it comes to event management, consolidation is a good thing. Moving everything under a single roof means you only have to manage one fulfillment firm rather than many. Communication is better and requests are handled more efficiently when they are performed by a single team working together.
You can see all the physical items that you currently have in inventory, in real time. Through the portal, you can see exactly what's in inventory—everything from data sheets to table skirts—whenever you want, in real time. You can even run reports to understand historical usage for future planning purposes.
Schedule and organize shipping right from your desktop. You no longer need to manage your event material shipments by yourself. You simply provide the destination and dates; your fulfillment partner handles the rest, including return shipments. Whether it's town to town, state to state, or country to country, the event fulfillment partner has the expertise to get things where they need to go with minimum hassle.
Materials that come back after an event are returned to the fulfillment warehouse. Event fulfillment providers understand the importance of return materials and are equipped to handle them efficiently. Within a day or less, you should be able to see all returned items in your inventory report via the portal.
It makes tracking easy by centralizing everything. Your MAM portal provides highly accurate "materials intelligence" that lets you track all your used, purchased, and returned event materials, allowing you to plan and schedule future activities with confidence.
OnFulfillment Offers Event Fulfillment Services
An effective Marketing Asset Management solution can handle all your physical and digital materials as well as help you with your event management responsibilities, lightening your load and lifting that weight on your shoulders.
OnFulfillment offers comprehensive event and marketing fulfillment services that can significantly expand the capabilities of your current staff. Learn more by scheduling a meeting.