Obvious observation of the day: today's corporate world is dramatically different than it was just two or three years ago.
Thanks primarily to the COVID-19 pandemic, 16% of companies worldwide are now 100% remote. And even though 44% of global companies don't or can't allow remote work, 85% of managers assume that hybrid teams composed of both on-site and remote workers will become the new norm.
Whether you're in marketing, human resources, or training, you must be wondering how you'll communicate and engage with such a diverse and distributed workforce. Advocates of remote work are wondering the same thing: 17% acknowledge that communication and collaboration will be a significant challenge moving forward. Managing this emerging world will be, as the saying goes, like herding cats.
Of course, there are vendors who can help you navigate the rough waters ahead. But you don't have the time or budget to procure and manage a stable of specialists who focus on one aspect of your myriad challenges.
The key is to find a single vendor that aggregates and addresses all your needs under a single umbrella—a central resource, available to all, that unites your far-flung organization via a web-based tool, allowing everyone to virtually occupy a common location.
OnFulfillment is such a vendor. By offering a variety of fulfillment, printing, merchandising, event, and shipping services under one roof, OnFulfillment is your single point of contact for engaging and communicating with your employees, partners, and customers, no matter where they are.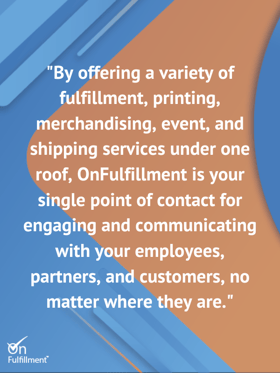 An online portal provides the virtual marketplace. If you're in marketing and need to plan an event, you can manage all logistics via the portal, including ordering giveaways and handouts, reserving booth materials, and scheduling deliveries. If you're in training and organizing an important class, you can produce and distribute educational materials either electronically or in hard-copy form. If you're in HR and want to conduct employee reward and recognition programs, you can order gifts, create landing pages, and communicate with your constituents quickly and easily, anywhere in the world.
As a full-service vendor, OnFulfillment offers comprehensive warehousing, kitting and assembly, and shipping and distribution services coupled with the expertise needed to deliver anywhere in the world efficiently and cost effectively. Web-to-print, offset, and print-on-demand capabilities allow you to produce collateral or other materials in whatever quantities you want, based on need and budget. And relationships with all major merch manufacturers means you can produce virtually any kind of branded promotional item you want, from logo t-shirts and hoodies for the company store to personalized plaques and everything in between.
As a manager, you also have access to OnFulfillment's comprehensive reporting database that lets you monitor inventory, order and manage print jobs, schedule and track deliveries, or keep an eye on anything else that flows through the portal. You remain informed and on top of the action, without spreading yourself too thin by managing multiple vendors.
To learn more about how OnFulfillment can help you herd your cats, request a demo with us!