We are now officially halfway through 2023. That seems like a good time to pause, reflect a bit, and take a look back at how the year has unfolded so far.
Events Are Back
For us at OnFulfillment, the year so far can be summed up in a single word: events. Trade shows, conferences, seminars, roadshows—they are all making a tremendous comeback this year, both domestically and in EMEA. The general assumption is that, after several years of lockdowns, people are anxious to get together again. As effective as Zoom meetings and virtual events have been, there is really no substitute for face-to-face interactions, and the resurgence of events in 2023 really bears this out.
Consequently, companies that had to reduce headcount due to the pandemic or have reassigned event management resources to other tasks are now struggling to keep up with demand. They are looking for a one-stop solution to help them manage logistics and materials, ship to and from various venues, and produce and deliver collateral and giveaways in just the right quantities for each event.
Businesses like OnFulfillment are reaping the benefits of the current climate. So far in 2023, we have seen a 34% increase in the number of requests for demos over the same period last year, most of those coming from the Event Support services and Marketing solutions pages. Of those meetings, 40% are considered highly qualified leads, and 17% of those leads have already signed on as new OnFulfillment customers.
The vast majority of these customers are looking for help with their event management activities. Unfortunately, in the wake of the pandemic, many vendors who are primarily promotional distributors or printers dropped the event support side of their business.
OnFulfillment was not one of those vendors. Consequently, customers looking for a turnkey marketing fulfillment solution that includes event management support are finding that OnFulfillment is what they're looking for. In particular, these customers are intrigued by OnFulfillment's all-in-one event management software platform that empowers them to effectively plan, manage and conduct successful events by offloading tedious and time-consuming logistical tasks, allowing them to focus on more strategic priorities.
Through the OnFulfillment software portal, customers can reserve event materials, order branded promotional merchandise, and schedule global shipping and warehousing right from their desktop. It allows small teams to handle more events, providing real-time inventory management capabilities that help you easily coordinate and schedule all your event activities.
Demand for Print is Growing
Events aren't the only activity that has ramped up during the first half of 2023. In the past six months, we have also noticed requests for print—specifically print-on-demand—are making a comeback. In fact, our web metrics indicate that our most popular blogs are print-related.
Some of this demand is related to the increase in event activity; the more events there are, the more printed material companies need to adequately satisfy demand. But it's more than that; in our meetings with prospects and customers, it's clear that an increase in overall marketing activity is driving the need for more and more printing.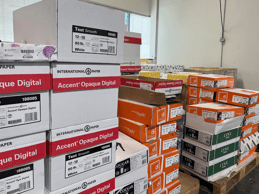 In addition to its event management services, OnFulfillment also offers full support for sustainable eco-friendly printing methods, including print-on-demand and web-to-print as well as more traditional approaches such as offset, large-format printing, and variable data printing. A global network of printers allows OnFulfillment to essentially print "locally" anywhere in the world, helping you avoid VAT, customs, and shipping issues that delay deliveries and save you money in the process.
Marketing Closets Are Going Away
Finally, one trend we've noticed gaining steam over the past six months is the disappearance of the marketing closet—an onsite location where branded giveaways, collateral, and other items are stored for use at events, or where sales teams can find branded apparel to give to prospects or customers.
This development is not necessarily new. As the cost and effort of maintaining such a closet grew over the years, companies began phasing out their marketing closets and moving this service online. Once the pandemic hit and the concept of working remotely grew more mainstream, this activity only accelerated.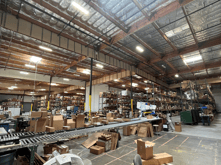 Not only does an online company store make items globally available, it also allows companies to offer a virtually limitless inventory without having to worry about storage. Items can be ordered on demand and produced and shipped in a matter of days, eliminating considerable overhead.
This trend in particular plays to OnFulfillment's strengths. Online company stores require a user-friendly interface and integrated inventory management system—precisely what OnFulfillment's sophisticated, easy-to-use software portal provides. Companies can build their own corporate-branded electronic storefront on the OnFulfillment platform where employees or any authorized individual can browse and order materials ranging from data sheets and white papers to golf balls and polo shirts.
OnFulfillment has access to virtually anything our customers could need, and we offer a wide range of brand names including Yeti, North Face and Under Armour, to name a few. If our customers can't find what they're looking for in our online promo store, we will find it for them.
During our sales meetings, we find that prospects are very impressed with the level of service and support OnFulfillment offers with respect to branded merchandise. In fact, our branded promotional items page is the most visited page on our site so far in 2023, suggesting that demand is growing as events and other marketing programs gather momentum.
What's In Store?
It's been a fruitful and rewarding 2023 so far for OnFulfillment, and we're looking forward to seeing what the rest of the year has in store for us and the marketing fulfillment industry. We are bullish that the activity we've seen so far will continue to build as business gets closer to the "normal" that we all enjoyed prior to 2020.
If you're looking for help with your event support, printing, or promotional merchandise, let us show you want we can do. Just complete our contact form and let us know what you're looking for. We're confident we'll be able to solve whatever marketing fulfillment problems you may have. Who knows; maybe you'll contribute to an even better second half of 2023.