If you're like most Marketing departments, your team has probably evolved into a group of glorified order takers—the go-to source for other departments looking for help with events, collateral, promos, onboarding kits, and other special projects.
It's not necessarily a problem that your colleagues are looking for help. After all, you want them to seek your guidance and take direction from the branding and content experts. That's fine.
But it's more than just offering advice. Your team ends up spending an inordinate amount of valuable time responding to e-mails from the sales team looking for collateral or corporate-branded giveaways. You're asked to store and manage materials for various groups, which is not only time- and space-consuming, but also a drain on the budget. Worst of all, it falls on you to track shipments and inventory, coordinate with print and swag vendors, and interface with fulfillment houses to plan and execute campaigns—all for other departments.
Your team should be a creative force that drives the company's brand and identity strategy—not a walk-up window.
There's a portal for that.
The OnFulfillment Web Portal
The OnFulfillment web-based marketing portal is a resource you manage but others can use to satisfy all the requests they used to rely on your team to fulfill.
Through the portal, you can manage all your inventory, including printed material, show properties, promotional items, and any other physical assets you may have. You can also schedule and track shipments, order new materials, reserve items for future use, and access critical files for production, modification or updates.
Best of all, you can grant selective access to other groups, enabling them to perform many of the tedious and time-consuming tasks they used to rely on your team for.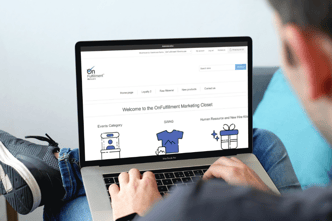 Does the Training department need to print more manuals, develop new courseware, or ship materials to multiple locations for an upcoming roadshow? They can do it all themselves via the OnFulfillment portal. You determine and grant the necessary level of access, and the assigned team member can use the software to determine current inventory levels, order new print runs, and schedule deliveries and locations.
Is the HR department gearing up for a new onboarding program or recognition event? With access to the portal, they have the ability to order customized and personalized awards, assemble new employee packets with onboarding materials and branded apparel, or schedule a mass communication with a select group of employees.
Is channel marketing developing a new outbound campaign to be run through their worldwide partner ecosystem? They can design, produce and distribute all the various components using the marketing portal, even giving partners the ability to customize the pieces with their own logo and messaging. As the portal's owner, you can give outsiders limited and temporary access to modify, order and ship the materials they need for the campaign. By controlling access to the files and what can be changed, you ensure your brand integrity is preserved while still giving partners the ability to customize certain aspects of the materials. You retain possession of and control over all the files.
Best of all, because everything uploaded to the portal has been reviewed and approved by you and your team, you can ensure that all files, promotional items and other materials reflect the proper brand guidelines. You don't have to micromanage production anymore.
We've just scratched the surface of what our software can do. There are plenty of examples of how different groups can use the portal to manage their own outbound projects, order or reserve the materials they need, and monitor inventory levels so they know when or if they need to produce additional items.
An informed workforce is an efficient workforce, and the OnFulfillment corporate marketing portal keeps all your teams aware of what's available. If you'd like to hear more about our powerful software platform, we'd be happy to give you a tour. Simply request a meeting and we'll get back to you shortly to schedule something.