We've said it many times over the past several months: trade shows and events are making a huge comeback. Most of the new customers we've welcomed in 2023 actually came to us looking for help with their event management requirements.
One thing we've discovered in our initial meetings with these new customers is they are often confused about the differences between exhibit houses or providers and event support and management services. Many assumed they were synonymous, leading to lots of frustration as they searched in vain for vendors who could provide the help they were looking for. Turns out a simple change in their search strategy could have led them right to their ideal partner, saving considerable time and effort.
In this blog, we'll explain the differences between exhibit providers and event management services. Hopefully this will help you successfully find the right partner to help you with your trade show, conference and seminar needs.
Exhibit Houses Focus on Large Events
Exhibit companies, also called full-service display houses, design, produce and manage trade show exhibits for their clients. These exhibits, often called "booths" or "properties," are typically medium to large-scale structures one would see at major high-profile industry shows held at convention centers in cities like Las Vegas, Boston, or San Francisco. The properties are custom built for various booth sizes, typically quite large, and reflect the customer's corporate brand and messaging.
These exhibit houses provide a number of services for their customers, including designing and building the property itself as well producing related booth graphics, all in house. They also typically provide climate-controlled storage for the structure, offer online inventory reporting, and assist with floor show services and logistics. This includes working with third-party "non-official" contractors like carpenters, electricians, and installers, as well as coordinating with unions, during the booth set-up and tear-down process.
In short, exhibit companies provide everything a customer needs to design and build a custom booth property and get it into and out of tradeshows. These services are typically reserved for a small number of industry-wide, corporate-level events held in large venues across the country or around the world.
Event Support and Management Offers More Comprehensive Services
While exhibit houses spend their time and resources on a handful of larger high-profile trade shows, event support vendors offer a more comprehensive set of services that help customers with the day-to-day scheduling, coordination, management, and execution of smaller local or regional shows.
Unlike the large industry shows, regional events are not corporate-level events. Typically held in smaller venues and cities, they are often sponsored and staffed by local sales or marketing teams. Displays are usually modest—small tabletops or portable pop-up booths. Since they are local events, they are not normally on the corporate radar, making it difficult to build them into the yearly trade show calendar. Complicating matters, such shows are abundant, and the decision to participate—made at the local level—is frequently last minute.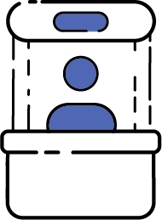 That means companies must be able to respond quickly and be prepared to offer the necessary materials and support, virtually at a moment's notice. That's where event management services enter the picture.
Event management services vendors help customers plan, manage, and conduct successful in-person, virtual and hybrid shows, conferences and seminars. This includes managing inventory, maintaining and repairing reusable items such as banners, pop-up signage and backdrops, dry cleaning table skirts and other materials, and making the procurement of branded merchandise and printed collateral quick and easy.
Because local and regional events happen so frequently and demand for materials is high, event management vendors allow employees to reserve, order, or customize the tradeshow materials they need. This is normally accomplished through a centralized software portal where sales or marketing teams—anyone granted access—can check availability of materials, track inventory and location, and monitor shipping status, all in real time.
A master schedule allows users to reserve items like banners, signage and pop-up displays for a future event, ensuring their availability when needed. Same goes for branded swag or printed collateral needed for the event; organizers can reserve or order the necessary quantities via the portal.
Since the required items are stored and shipped by the event management vendor, users can access real-time inventory management reports to see where materials are at any given time, who is using them, and when they are due back. Shipping to and from the event is also scheduled through the portal, with online reporting offering up-to-date information about each item's current and future status—when they are reserved and whether they're in transit, at the event.
In summary, unlike exhibit houses that focus on supporting a handful of large-scale trade shows with onsite assistance, event management vendors help companies schedule, organize, and conduct smaller local and regional events using reusable items kept in inventory. Everything is managed through a sophisticated software portal that all users can access to reserve or order materials, monitor availability, schedule shipping, and determine current status and location through real-time reporting. Historical reports also provide insight into usage patterns and consumption, helping users anticipate when they might need to order new materials or reserve items earlier than normal to guarantee availability.
Finding the Right Partner is Critical
If you're looking for an exhibit house that can help you build and store a high-end booth property to use at large corporate-level events, then a simple Google search on "exhibit house," "exhibit companies," or even "full-service display houses" should point you in the right direction.
If you need a partner who can help you plan, schedule and manage smaller local and regional events overtime, then a search for "event management services" will provide a list of qualified candidates. These are companies that will store, maintain and ship reusable items like pop-up signage, banners, table skirts branded merchandise and printed collateral you will need on a continual basis, multiple times per year.
One such partner is OnFulfillment. Our all-in-one event management software platform delivers the cutting-edge event and tradeshow fulfillment, support and execution services you need.
We'd love to show you more about how we can solve your event management and support needs, as well as your printing, shipping, branded merchandise, and other marketing fulfillment requirements.