Back in 2020 and 2021, when the world was in the throes of the COVID-19 lockdown, many companies scaled back their operations and revisited their business goals and objectives while adjusting to a new remote workforce.
Not OnFulfillment.
Rather than lose momentum, we viewed the slowdown as an opportunity to enhance our capabilities, expand our business, and introduce changes that were otherwise difficult if not impossible during busier times. While many of our competitors sat around waiting for the pandemic to end and business to return to normal, we took advantage of the downtime to implement improvements that allowed us to hit the ground running once the restrictions were lifted.
What changes or improvements did we make during the lockdown? Here's a list: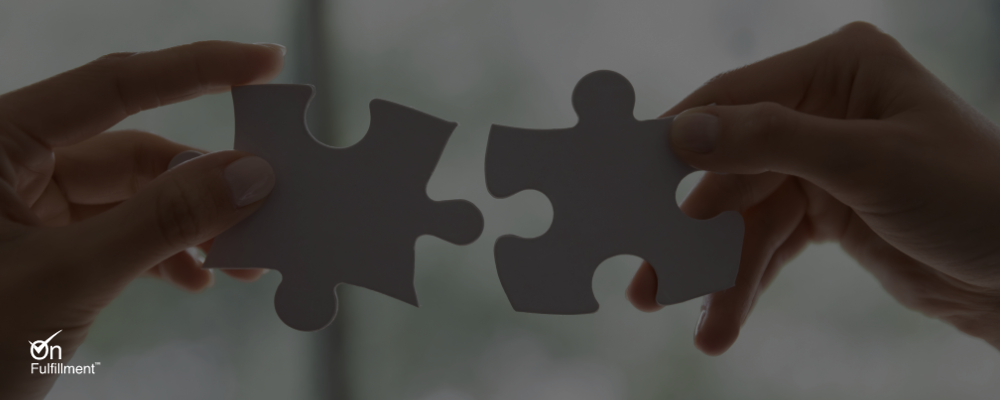 Beefed Up Event Support Module
Event fulfillment has always been a specialty of ours. We used the COVID slowdown to make some long-anticipated improvements to our event support module that further enhance our already impressive service.
With the new module, our customers can now simultaneously schedule and track multiple shipments to various event venues, as well as their return to storage, in real time. This capability allows them to reserve items for upcoming events, see their current status, and determine their availability for future use.
Return shipping labels are now also included with the original shipments so returnable items can be quickly boxed up and sent off—no need to wait in line for paperwork at the show site.
Returned items are also now subjected to a quality inspection to ensure everything is clean and in working order. If any damage is found, OnFulfillment proactively initiates repairs to ensure the item is ready for its next event. Reusable materials like table drapes are automatically sent out for dry cleaning.
New Landing and Redemption Pages
During the lockdown, OnFulfillment added a new level of security to the website that allows customers to restrict access to landing and redemption pages for recipients who have received a promo code.
With these changes, our clients can define exactly what visitors are permitted to see—an important feature for companies running multiple campaigns offering different gifts to recipients or HR departments offering company onboarding kits to new hires. Customers can create and maintain multiple redemption page groups for different campaigns or activities and keep them distinctly separate.
Integrated Global Warehouses
OnFulfillment maintains storage facilities on multiple continents to serve a worldwide audience. Thanks to changes implemented during the COVID-19 lockdown, our customers can now access and order materials from multiple warehouses around the world from a single portal. There is no longer any need to maintain multiple platforms or work with different vendors for every international location.
Updated Print Center
OnFulfillment took advantage of the lower activity during the lockdown to move its print center to West Sacramento, California. This consolidation has allowed the company to make additional improvements such as investing in new printers, presses, and technologies that improve print quality and enhance overall service capabilities.
Expanded and Updated Custom Reporting
The pandemic afforded OnFulfillment the time and opportunity to expand its custom reporting capabilities to serve customers with even more detailed inventory and usage data.
Reports were added to show redemption page activity as well as relating orders to specific events for tracking purposes. New custom reports can also be generated based on need; for instance, if the accounting department needs specific information about weekly or monthly activity, or if marketing needs a report detailing product history, these reports can now be easily created and shared.
Custom Templates for the Web Portal
Before the pandemic, OnFulfillment offered a generic template for building pages or sites within the portal.
During the lockdown, that basic template was expanded to include a number of customization options including layouts, fonts, colors, and graphics. Using these features, users are able to build sites and landing pages that reflect their actual corporate branding.
Introducing the OnFulfillment Marketing Closet
Once upon a time, organizations maintained what was called a "marketing closet"—an on-site location where they stored items they might need for events, campaigns, sales meetings, and the like. Everything from printed collateral to pop-up booths and signage to branded merchandise was kept on hand and made available for the various departments who needed it.
As teams shrank and budgets were cut, more and more activities moved online. As a result, marketing closets began to disappear.
During the pandemic, OnFulfillment spearheaded the concept of a "virtual marketing closet"—an online replacement where smaller teams on a tight budget could store their materials. Items can be ordered, reserved, shipped, received, produced—whatever is needed to meet the needs of the group. Frequently used items can be kept in inventory for immediate availability. Anyone with access and a budget can order materials; they only pay for their activity and customer management. It's a classic example of an emergency serving as an inspiration.
Integration with Facilis
Finally, during the pandemic-related lockdown, OnFulfillment took the opportunity to integrate with the Facilis purchasing and buying group for promotional products.
Facilis Technology designs, builds, and deploys networks of shared storage servers for collaborative media production. Through Facilis, members have access to a large network of vendors providing branded merchandise and other giveaways.
Integrating with Facilis has helped streamline workflows by improving the price quoting process and expediting order processing.
By providing access to a wider variety of vendors and items, integrating with Facilis has also resulted in lowering prices for branded promotional products, directly benefiting our customers.
OnFulfillment: Always Improving
Unlike a lot of companies, OnFulfillment wasn't caught lying down during the pandemic. They used the slowdown as an opportunity to improve and expand their offerings and the quality of their services.
Now with the COVID-19 catastrophe largely in the rearview mirror, OnFulfillment continues to seek ways to improve, building on their past success to develop new capabilities and expertise that ultimately serve our customers.
We'd like to hear more about your marketing fulfillment and event management challenges and explain how we can help. To learn more about what we can do for your company, visit the OnFulfillment Contact Us page to set up a meeting.