If you're participating at an upcoming event where you hope to meet and attract top prospects, use every available marketing tool to help drive your success there. Event participation is pricey, what with the cost of exhibiting, travel expenses, staff time spent out of the office and on the show floor, entertaining customers, and outfitting your booth or display table.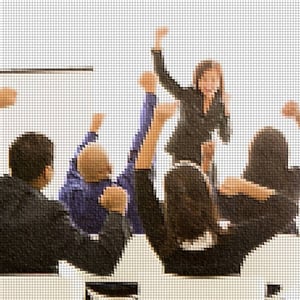 Take a deep breath. Let's look at the ways that printed materials can help make your event a winner.
PRE-EVENT
It's a no-brainer that you'll tell your customers about your upcoming event in an email, on your web site, across your social media channels, and in your blog. How can you drive them – as well as key prospects – to visit your booth at the event?
Postcards are versatile. Small or jumbo, flat or folded, they're an inexpensive yet smart way to promote your event presence. Personalize your postcards to make them more relevant, perhaps with the company name inserted into the copy and even each person's name.
Don't be satisfied with a static postcard. Add a PURL (Personalized URL) to each one, leading every recipient to his or her own landing page on your web site. Maybe they can register online for a contest at your booth and become eligible to win a terrific prize. When they click on their PURL, they fill in a form to qualify. This lets you gather key data as well as build interest in meeting you at the event. You can achieve these same results using a QR (Quick Response) Code on the postcard.
Dimensional mailers are rare and magical. They beg to be handled and shared. Consider producing something that dazzles your recipients. This 3D option is interactive and engaging. It's the opposite of junk mail, and when designed masterfully, it is displayed and shared. Picture sending out a promotional piece with pop ups or custom die cuts.
Public event banners can help create anticipation for your event. If the venue is in a city where many of your customers and prospects live and work, look for opportunities to display banners and other signage in the weeks leading up to your event. Put yourself in your prospects' shoes to see where printed materials will be most effective. Sports events (national, regional, local)? Transportation hubs (train stations, airports)? How about restaurants or shopping malls?
Thinking bigger? Then consider vehicle wraps, fence wraps or even building wraps to pack a large printed punch for your event promotion.
DURING EVENT
Outfitting your company's booth takes creativity and perspective. Consider where your booth is physically situated within the venue. Your display must be seen from all vantage points and not be dwarfed by those around you. Know the location and the dimension of your space before you begin designing materials.
Large-format banners and signage form the core of your display. There are so many options for trade show banners today. Work with your print partner to produce the most eye catching and durable display you can.
Print collateral at your table is key. This can include marketing brochures, pocket folders filled with product sheets, customized promotional items displaying your brand's logo, and even magazines or other publications that might include articles penned by your team members or ones that highlight your products and services.
Business cards are a given at any trade show. Don't forget to order them ahead of time.
Branded giveaways like calendars and small notepads are popular. The emphasis is on "small," since event attendees are often overwhelmed by the amount of materials they collect. (To reduce the chances of your materials being tossed, make sure they're petite and lightweight.)
Printed tote bags are ever-popular. It's one more way for your name and logo to be on display. If the bag is attractive enough, it will have a long shelf life.
POST-EVENT
With luck, all of your promotional efforts to attract visitors to your display worked like a charm. You've gathered good data pre- and during the event to help qualify prospects and follow up accordingly. You've come away with solid leads (and sore feet).
Thanks-for-stopping-by postcards are more than a nice touch; they are a good way to keep the budding relationships growing with all of the people you met. Now is the time (within two weeks of the event – sooner is even better) to get in touch with people who stopped by your table. In fact, when you're designing the pre-event postcard, design this follow-up piece at the same time. All you'll have to do is marry it with your post-event database, print it, and mail it.
And there's this: you can never go wrong by sending printed note cards that are hand written and addressed. While it's easier to do if you have a relatively small list, you can always just send them to your A-list prospects or customers. Regardless, it's wise to keep a supply of your company note cards in inventory.
When planning your next event, these tips for using print will reduce the stress and increase your success.