Rewards programs are growing increasingly popular with businesses today. Whether to recognize internal accomplishments, attract new customers, or retain existing ones, such programs are surprisingly effective.
Rewards programs, however, are also notoriously difficult to develop and execute, posing a significant organizational and logistical challenge. What form will the rewards take—points, coupons, gift cards, giveaways? Do they require landing pages, redemption codes, tracking and reporting tools?
Whether large or small, all rewards programs must be carefully and meticulously planned to ensure a successful outcome. That requires asking yourself the right questions during the planning phase to avoid the pitfalls that await the less prepared.
The first—and most important—question to ask is, "What is the purpose of this program?" Establishing a goal and envisioning what you consider a successful result will reveal the best path forward, helping you design and tailor a program that works best for your organization.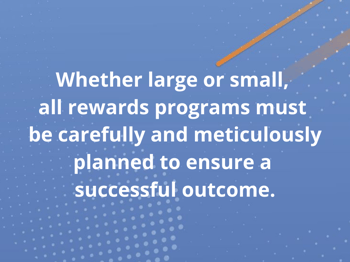 As part of this process, you must define who you are rewarding: employees, customers, partners? And why are they being rewarded—is it for achieving a goal, attending a meeting, responding to a query, joining the organization? The answers to these questions will largely dictate what form the resulting program will take.
For instance, will this be a one-time campaign, or will it be ongoing? Will participants receive a single reward, or will they continue to earn points or recognition value as new goals are met? If it's the latter, do you want them returning to your company store to shop and potentially buy additional items?
You need to gather critical logistical information as well. Will the audience be coming from inside the company, from a partner portal, from an external CRM instance, or some other location? What kinds of tools and reporting do you anticipate needing? What sorts of giveaway items work best for the sort of program you're planning?
Every touchpoint along the rewards program journey reflects on your company. That's why it's critical to ask all the right questions and make sure you understand the objective before you start committing to a plan.
OnFulfillment has decades of experience planning, building, and executing both internal and external rewards programs of all sizes. This experience includes building and maintaining portals and landing pages, assigning and managing redemption codes to prevent program exploitation, and fulfilling orders anywhere in the world with the items you have identified. It's a seamless effort that offers you a single point of contact for the entire program.
For more information or for a demonstration of our capabilities, please contact us.