"Fulfillment" is a funny word. When you hear it, you might picture something soothing that relates to personal fulfillment – anything that brings you closer to complete happiness. (Can we get an "Om….."?)
But "order fulfillment" is a whole other story. In commerce, it describes a company, department or service that processes orders for products and delivers them.
If you're the one placing an order, and the company providing this service gets it right, you get what you ordered when you expect it, and it's in pristine shape.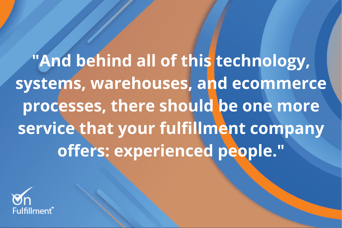 Some might say that's also a kind of "complete happiness." For sure, if you don't get what you've ordered, or get it too late, or it's damaged, it's often a complete nightmare.
The fulfillment business is misunderstood. Many equate it with simply shipping or mailing. That's only a tiny part of what a fulfillment company does. A formal definition describes it as the process or business of receiving, handling, packaging and shipping customer orders. It seems pretty straightforward. But it's anything but.
Multiple departments, systems and processes are involved in a modern, high-tech fulfillment company. There's order processing and tracking, warehousing, facilities (and facilities management), inventory management, staffing and managing of staff, security of the systems as well as the items inventoried, shipping and delivery, and invoicing. There's also customer communications and management, packaging equipment and materials, and an ecommerce system.
Woven through all of these facets of fulfillment, there's the technology needed to manage them.
Many companies outsource their fulfillment function and use these partners as their shipping center. Fulfillment specialists can provide economies of scale to their customers because they have the systems, equipment, manpower and technology solutions in place to process orders efficiently.
The most sophisticated fulfillment partners assume a much larger role than just receiving and shipping orders. They can take products from shelves in their warehouse facilities and fulfill orders of different quantities as needed. They can send automated emails to customers once products have shipped. They have credit card functionality and can handle online payment processing.
Top fulfillment companies handle and process returns and offer call center or other customer service support as well. They provide real-time order updates and online status of fulfillment. And they provide extensive tracking capabilities for both tangible goods and digital products. This includes reporting functionality so that clients can gain insights into products and customer behaviors.
And behind all of this technology, systems, warehouses, and ecommerce processes, there should be one more service that your fulfillment company offers: experienced people.
Look for a company that can give you advice and strategies for the best ways to package and ship your products, whether they're analog or digital, and whether they're being shipped near or far.
Order fulfillment is a vital part of your sales cycle and shouldn't be relegated as merely the "tail end" of it. It should be integrated into your sales process as well as your billing, customer support and online payment processes.