Don't have a "go-to" designer or a creative agency with which you work? No worries. There are some handy tips to help you choose the right graphic designer for a direct mail project.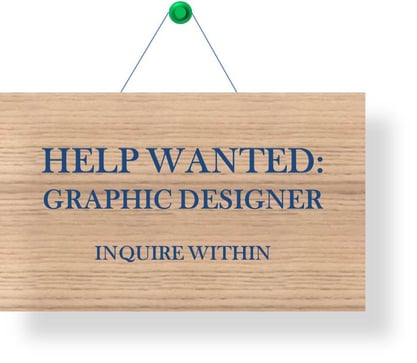 Graphic design is a creative and technical specialty that generally requires at least a college degree. And as with any professional service, the more experience your designer has, the more comfort that will provide you, the client.
Here are 6 guidelines to keep in mind when choosing a designer to produce print marketing material for you.
1. Seek recommendations from colleagues and favorite print providers
Do you admire print materials from colleagues' firms, or print samples from your direct mail printers? Don't be shy. Ask them who designed them. Find out if they'd recommend the designer. Also ask: Was the designer easy or difficult to work with? Did he or she listen to client input and adapt the design accordingly? A good designer should always listen to the client. The finished design must be pleasing to you – and not become just a promotional vehicle for the designer. Getting references from people you trust is the optimum way for finding designers you might work with.
2. Check out the designer's web site
Before you even look at samples of their work and testimonials of happy direct mail clients…do you like what you see? Is the site attractive, professional, and free of typos and other mistakes? A well-done site reflects the people behind it. Look at the designer's gallery or portfolio of pieces. Do you like his or her style? Does it appear that this designer has produced direct mail pieces? Not every designer has the background; it's important to find one who has this specific experience.
3. Call two or three designers to interview them by phone
Tell them the types of direct mail projects you need. Ask about their experience with direct mail. Some of the questions you should ask, if they're not evident from the web site or the designer's LinkedIn profile, are as follows:
How long have you been a designer?
How much of your work is designing for print vs. digital media?
Have you designed print marketing materials?
What's your experience with designing direct mail pieces?
4. Designer and/or content provider?
Some design firms employ copywriters. If you need content written for your direct mail piece, ask if this service is provided. Don't assume anything. Also, ask who's responsible for proofreading the job. Many marketers think the designer will proofread. Who knows if he or she is even qualified? (It's generally the client's responsibility.)
5. Find out how the designer keeps up with USPS rules and regulations
Some are extremely savvy. Others may know little or nothing about regulations that directly impact the design of materials to be mailed. It's in your best interest to work with a designer that is educated about postal issues and makes a point of keeping current. Your direct mail piece must be designed with the USPS in mind. If it isn't "automatable", or if the size or paper selection means you'll spend more to mail it, it can blow your budget or even delay the delivery.
6. How much does the designer know about paper options for direct mail?
It matters tremendously. Paper weight and finish directly impact your project. This is where experience helps. Will the designer spec the paper and source the printing – or do you want the designer to work with your preferred printer (recommended!). Designers should work in tandem (translation: peace & harmony) with commercial printers. All egos should be checked at the door.
Use these guidelines when you're looking to hire a designer for direct mail projects. Finding a designer with experience in personalized direct mail should be your goal. Someone who's worked with a direct mail printer and who knows how to get answers (when needed) from the USPS is the designer for you. Direct experience in direct mail design? Priceless!
Want to learn more? Download our new Direct Mail ebook.