Each year in January, folks in the promotional distribution industry gather together in Vegas at the PPAI Expo where they get to enjoy a sneak peek at which promo products are going to be available over the coming months. They also enjoy the unique opportunity to witness the latest trends and experience various programs that will be launching next year as well. We are excited to share that the show will be back on again in 2022, for the first time since before the pandemic.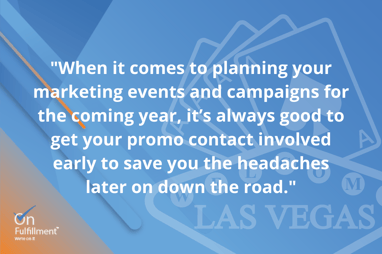 This year's event, which takes place at the Mandalay Bay Convention Center and covers a span of 5 ½ miles, is scheduled to run from January 11th through the 13th. Most marketing teams have already started planning their schedule for the coming year, including campaigns and events. The PPAI Expo is the perfect opportunity to get some ideas for giveaways and other promos for those events and campaigns well in advance.
To take advantage of this, here are a few key questions you should ask of your marketing team and/or your promo contact before they attend the show:
What are 3-5 products you would like to have in the upcoming year?
This could be anything from t-shirts to jackets to drinkware. Let us know what you're looking for so we can send you ideas and pictures from the showroom floor.
Will you be participating in trade shows this year and need event material?
Do you have up-to-date banners and table throws? Do you need ideas for small giveaway items? Let us know and we will look around for you!
Do you have any specific campaigns or events you need giveaways for?
Maybe you are going to a cool event or have a themed campaign that requires certain products that align. We will keep those themes in mind while walking around the event.
When will you need the products for my upcoming events and campaigns?
Some products we will be seeing on the floor are not going to be available immediately after the show. Some may not even be available until months later. This is why it's so important to plan well in advance.
Likewise, products that are coming out immediately after the show are likely to go out of stock within the first month or two of being released. If there's a particular product you like that we sent to you from the show, consider ordering it sooner rather than later and letting us hold it until you are ready. Better to be safe than sorry!
How do you plan on marketing your company in the upcoming year?
We know how important your company's brand voice is, and each year, that voice may change to fit a different marketing agenda. For the coming year, are you planning to be trendy? Modern? Funny? Do you want your company products to look sleek and simple or do you want to add more creativity or personality to your branding? This will help us find the products you are asking for and maybe even offer additional suggestions.
When it comes to planning your marketing events and campaigns for the coming year, it's always good to get your promo contact involved early to save you the headaches later on down the road. If you've gone through the list of questions above and are ready to put us to work at the PPAI on your behalf, give us a call right away. We're happy to help get you set up for another year of success.