This is the first in a series about integrated marketing campaigns. If you want to be kept updated on new posts, subscribe on the form to the right...
Step 1: Print Say Hello to Data...
You're probably familiar with terms like web-to-print, integrated print campaigns, and multi-channel marketing. These terms get thrown about like rice after a wedding, but they're not that simple to understand.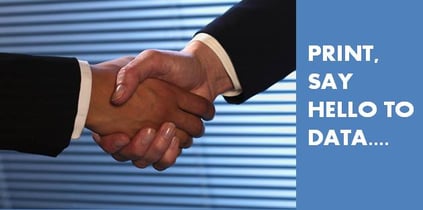 This post is the first of several that will explain the basics of an integrated direct mail campaign. With this one, we're focusing on combining print with your database. Each post will build upon the previous one. (When all is done, you'll have a handy reference guide to share with your colleagues!)
The idea is pretty straightforward.
Your Hypothetical Campaign
Let's say you're a marketer whose company sells insurance. You want to send a postcard campaign through the mail to your entire contact database. And let's say your customers are a mix of men and women from all across the country.
Some of these contacts are prospects that haven't done business with you. Some are customers who have one kind of insurance from you, while others are customers with several kinds of insurance.
This campaign is to promote a brand-new type of insurance – so everyone should receive the postcard.
Now, as a smart marketer, you know that personalized communications – those that are relevant and targeted to the person – will deliver a higher success rate, so you want to customize this direct mail campaign. According to Loyalty360, "73% of US marketers believe customer-centricity is critical to success."
Core Components an Integrated Campaign
Sophisticated Marketing Portal
If you have a robust marketing portal, it has a powerful print component built into it. Basically, your portal provider is working with a print and mail partner, and the sophisticated technology that drives this portion is already part of your portal. It also has a shopping cart module built in as well, allowing your sales reps or agents to order and pay for these campaigns directly from the site.
Reliable Database
Your campaign will be designed to accommodate customization in whatever way(s) your data will support. For example, if your data identifies men vs. women, you can design versions of printed collateral that appeal to both genders. Likewise, if you know where each contact is located, you can design versions that are appropriate for different parts of the country.
Templated Print Collateral
Your designers, guided by the portal's support team, will design postcard templates to accommodate the type of personalization you need. Copy will change on each printed postcard, as will imagery and color schemes. This is an example of VDP (Variable Data Printing), another one of those terms we constantly hear. Every postcard generated from your portal will be unique. If you're a woman living on Cape Ann in Massachusetts, your card will look different from a guy living in Boise.
Brand Consistency
By taking advantage of the print capabilities via your portal, and by uploading templates that have been carefully designed by your creatives, you realize a key benefit: the integrity of your brand imagery. Your logos, color palettes, and approved graphics for every product and every campaign are stored on the portal. They're pulled into the design of every postcard for your campaign, and therefore every one will show a consistent brand image.
Built-in Mailing & Fulfillment
Your marketing portal will not only let your sales agents pick and choose the type of postcards they want for a campaign, but it will also let them select the preferred mailing and fulfillment options. It's a seamless operation, with safeguards built in all along the way.
By now, you can sense the power of creating data-driven direct mail from your marketing portal. It offers you a highly sophisticated system for producing and mailing print campaigns that are targeted to the individuals on your database.
That describes the most basic components of your integrated direct mail campaign: marketing portal, database, print-ready templates, brand management, and built-in mailing and fulfillment capabilities.
This technology is incredibly powerful. In upcoming posts, we'll talk about integrating emails and other online components in your campaigns.
Want to be notified of the next post in this series? Subscribe to our blog at the top of this page.