Like uttering a barely audible password at a '20s speakeasy, some marketers talk in whispers when they bring up the notion of using printed materials in a campaign. Digital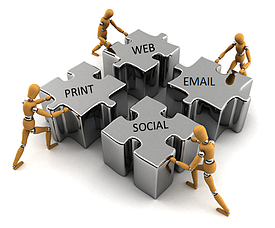 marketers can't conceive of the value of print: why take the time to manufacture something, when I can create web, email, and mobile campaigns fairly quickly? Besides, isn't print expensive?
Though print sounds strictly 'old school,' it's gaining new cred these days, thanks to better and better on demand printing capabilities. Pricing is very reasonable. Production time is scary-fast. And the print quality of digital presses now equals that of offset.
Print is a great medium to support your digital channels, like the web and emails. Using print in an integrated marketing campaign helps you reach a broader audience. It can reinforce a digital campaign, sort of like a one-two punch.
Check this out -
1. You're planning an email campaign, but you may not have accurate (or any) email addresses for your entire list.
But everyone has a physical mailing address. Using a direct mail piece in tandem with an email campaign ensures that you reach everyone. Go one step further: use the printed piece to draw people to the web, where you can then capture current contact information – including their email. Just be sure you have a compelling offer for them to take the time to do this.
2. Unsolicited email is often viewed with suspicion – and ignored.
No matter how clever a subject line is, we often decide in a split second to delete such emails without ever opening them. On the other hand, an unusual mail piece – flat or dimensional – is a welcome change from the daily email onslaught. If your design, format, and production values of your marketing collateral are all exceptional (or at least intriguing), they'll get noticed.
3. You can order printed marketing collateral exactly the way you like it.
Long gone are the long print runs you had to purchase, when every piece was identical. Now marketers can personalize every single piece in a campaign. Using VDP (Variable Data Printing) technology, where a database is tied to a printed template (think postcard, brochure, calendar, whatever!), every printed piece can be made relevant to every person in your database. Not only can copy be changed to reflect the individual, but photos and other visuals can, too. The days of cookie-cutter printing options are over. Marketers can now get printed materials that are personalized and therefore more effective.
Give print a second look. You'll be surprised to learn how far it's come.