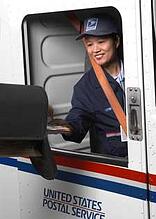 Consider this a public service announcement from us. To all you marketers planning an upcoming print marketing campaign, make sure you jump on some great promotions at the post office.
There are lots of opportunities to save money on your direct marketing campaigns, thanks to something called the 2014 Mail and Digital Personalization Promotion at the USPS.
By now you surely know how effective personalization is, particularly when you integrate it into a print marketing campaign. With personalization, you can target your message and track and measure response rates down to the individual. These USPS promotions are offered to encourage marketers to produce campaigns that speak directly to individuals by combining data with drop-dead-gorgeous design and print.
That means your print campaigns must include some sort of personalization technique – such as VDP (Variable Data Printing), QR codes (for Quick Response), or PURLs (Personalized URLs).
Keep in mind if your piece includes a scannable code, that you must also include printed instructions on your piece about how to activate the code. And if your print campaign includes a PURL or other web page, it must lead to a highly personalized landing page that clearly relates to the specific recipient. Also, if your campaign is built for mobile technology, your QR codes, digital watermark or other personalization technology must lead to a web page that is optimized for mobile devices.
From May through June 30, there's a terrific opportunity called "PostalOne!®" that offers you discounts for eligible mailings that are in some way personalized. The discount amount is 2% of eligible postage. Eligible mail classes include First-Class Mail presort and automation letters, cards and flats, among other pieces.
Later on this summer, there's a promotion for mail pieces that use AR (Augmented Reality). This one runs from August through September – which is perfect for fall holiday promotions.
Finally, there's another USPS incentive program running from November through December. If you include a mobile barcode or QR code on your mail piece, you could qualify for an additional postage discount.
These postal programs encourage – and reward – marketers for producing personalized direct mail campaigns. Why not take advantage…and save on your postage? For full details and more information, visit https://www.usps.com/business/promotions-and-incentives.htm
Image courtesy of USPS http://about.usps.com/news/photos/welcome.htm