Direct Mail Best Practices
There's no such thing as a simple, down-and-dirty direct mail campaign being built in a day or even a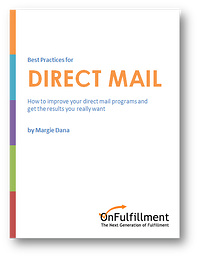 week…that is, not if you care about its effectiveness. Print marketing may cost more than an email campaign, but according to the DMA, letter-sized direct mail beats email – with a 3.4% response rate as compared to email's 0.12%.
Margie Dana, well known marketing strategist and author of the weekly Print Tips newsletter, shares her own experience as well as the experience of several experts in this new eBook.
Download now to learn the 7 key elements of any top performing direct mail program and get expert advice like:
Why a well crafted direct mail campaign is a good investment for business of all sizes, delivering high conversion rates and strong ROI
How to integrate social media and other digital marketing tactics into your print campaign
Why outstanding creative and thoughtful personalization can boost your results
How to track response and measure campain success
Why including your print partner early in the process can save you money and headaches as you execute your direct mail campaign
And much more!
Download the eBook now, and learn how to improve your direct mail programs and get the results you really want! Complete the form to receive your free copy of the eBook "Direct Mail Best Practices".
About Margie Dana
Following a corporate career in editorial work and print production, Margie Dana started her own business to focus on print consulting and created a community of professional print buyers. For 10 years she produced conferences that catered to print buyers.
In 2013, Margie exited the event business to focus on writing content for businesses, and then officially retired in the summer of 2017. From time to time, Margie accept projects that interest and challenge her. Visit www.margiedana.com for more.
About OnFulfillment
OnFulfillment helps marketing teams manage all their marketing assets, both digital and printed materials. Services include marketing portals and print-on-demand, professional print & fulfillment, variable data printing, and event & tradeshow support.
With 14 locations, OnFulfillment's technology and global fulfillment infrastructure ensures your marketing materials arrive on time, anywhere in the world. OnFulfillment's marketing clients include Juniper Networks, Miradry, Cepheid, and SunPower.