Operating on a global scale is no easy feat. From a logistical standpoint alone, the challenge of serving customers, employees and partners on a multinational scale can be an incredibly complex and costly endeavor. Such was the case with one of our customers - a rapidly-growing enterprise software company specializing in data science and AI technology.
Headquartered in the US, with offices located around the world, and serving hundreds of global partners and more than 5,000 organizations worldwide, international shipping and events had become an integral component of business operations.
Unfortunately, up until a few years ago, the company found its personnel becoming increasingly bogged down by manual processes, not to mention rising expenses. Organizational leaders knew there had to be a better way.
Inefficiencies and Expenses Were a Serious Problem
In 2018, the company initially came to OnFulfillment in search of a better way to manage their marketing collateral and events material. At the time, they were purchasing different types of materials from multiple different vendors and using a variety of different methods to place and track those orders.
Not surprisingly, the two employees who were tasked with managing this process were spending far too much of their valuable time on manual activities, whether it was buying swag, tracking packages, or managing spreadsheets. Things only got worse as the company began to take on more and more events.
Then there was the topic of cost. The company quickly began noticing that their sales budget was starting to chip away at their marketing budget. Between freight costs and the current convoluted, inefficient buying process, their expenditure was ticking upward at an alarming rate.
Sales and marketing wasn't the only area suffering, either. As the company continued to experience rapid growth, the human resource team found themselves inundated with the new hire process.
For every new employee brought on board, HR would have to manually capture relevant user data out of the Workday system, transfer that data into spreadsheets and then reach out to each employee individually. Not only was this process tedious and costly, but it was also a tremendous waste of HR resources.
A Streamlined, Scalable and Multi-Faceted Solution
As our first order of business, we began supporting the customer in their events planning and execution process. We took care of the promotional materials, including pop up banners and table throws, ensuring that everything was ordered and delivered as needed. We also began providing our print-on-demand services for various sales and marketing materials, such as case studies and white papers.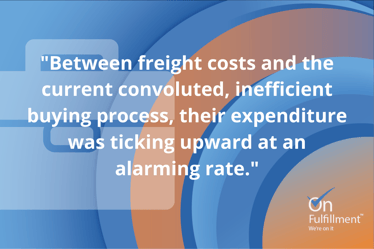 To address the customer's concern about cost-tracking, we enabled invoicing that included detailed expenditure breakdown. This allowed accounting to quickly and easily allocate and chargeback the costs of each event to the appropriate team for more accurate budgeting purposes.
From there, we moved to the development of a single sign on solution that enabled individuals to visit a branded website via the company's OKTA instance. They would simply go to their dashboard and choose their collateral. This process also automatically transferred user metadata, providing instant tracking ability for cost-center allocation.
The next phase involved streamlining their new hire process. Thanks to our secure and seamless connection via OKTA, the entire process has since been automated. Now, rather than someone from HR having to capture new hire details and manually manage the onboarding process, the new hire simply visits the company's branded store where they can order what they need directly. And because we work with global shipping providers in the US, UK and Asia, the company was able to dramatically reduce freight costs.
Costs are Down, Growth is Up
Since choosing OnFulfillment as their global engagement partner, the company has been able to hand off virtually every aspect of their events planning and new hire processes. Furthermore, they've been able to do so on a global scale.
Now, everyone from employees and customers to strategic business partners can access the exact materials they need via a secure platform based on their user privileges. The entire workflow – from selecting and ordering to shipping and tracking – can be carried out without the need for human intervention.
As a result of this, the company has collectively saved an immeasurable amount of time as well as a significant amount of money in the process. Perhaps even more notably, they've been able to achieve explosive ongoing growth – to the tune of 10-20 new employees being hired on a weekly basis – all while maintaining the same level of HR staffing.
Meanwhile, those employees who were once bogged down by time-consuming, manual tasks have now been freed up to apply their valuable skills to other, more meaningful work.
The Future Looks Bright
One of the main reasons OnFulfillment was chosen over other solutions is because we are able to scale alongside our customers and quickly adapt to evolving needs. Most recently, we were able to assist this customer in transitioning from physical to virtual events during the pandemic.
In particular, we successfully coordinated a recognition event for all 1,200 global employees through which our experienced team handled everything, from purchasing, customizing and assembling kits, to strategically coordinating shipping to minimize freight costs. We're happy to report that the event was a tremendous success.
Looking toward the future, the company plans to continue to leverage OnFulfillment's extensive list of global fulfillment services as it focuses on continued growth over the coming years.