As we head into the "new normal," it may be the right time for marketing teams to review the cost of shipping. [Ok, yes we said it, we said the 'new normal'. And, yes, we know it's a huge cliché. But it's hard to find another way to describe our current marketing environment.]
We all know that for the foreseeable future, physical events are canceled. But smart marketers are not slowing down because pipeline won't build itself. They are pivoting to virtual events, digital engagement, and the only physical marketing left in their arsenal–direct delivery to customers, prospects, and employees.
If your marketing plan includes delivering promotional products to
engage virtual event attendees

drive prospect meetings

make webinars more interactive and fun

thank loyal customers

reward or engage hard-working employees

celebrate company milestones
And if those customers, prospects, or employees are located not only in multiple cities across North America but around the world, than it may be time to review your FedEx or UPS bill and find ways to cut your shipping costs.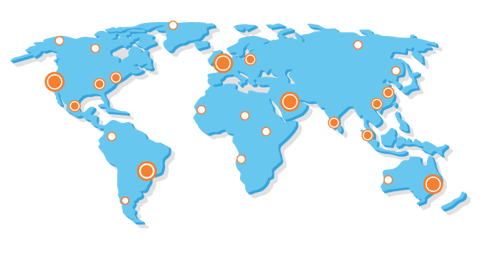 There are two key areas of cost savings to explore:
1. Local Shipping
Do you currently have plans to deliver branded products, printed marketing materials, or other tangible items direct to customers or prospects?
Do you currently manage your promotional product inventory and fulfillment from only one or two locations?
If you answered yes to these questions, than a print and fulfillment partner that offers a global network with a presence near the countries in which you do business is going to save you significant money.
Check out the map of our global network above and get more details about our global print fulfillment locations.
Here's why: shipping costs will be sky-high if your marketing materials are procured and warehoused in North America and then shipped overseas, especially to regions like Europe, China, or India.
Aside from preventing logistical nightmares, you'll save thousands and thousands of dollars by working with a partner who has a global network of warehouse and fulfillment facilities. By procuring promotional products, maintaining inventory, and shipping as locally as possible, we've found that customers can save thousands of dollars.
With a global fulfillment network, you'll get both peace of mind and extreme savings.
2. Fulfillment Expertise
Working with a partner with deep fulfillment knowledge can also help you select shipping methods that ensure your materials are delivered in the most cost effective and timely method. Understanding the constantly changing requirements and regulations from across the globe is critical to both cost effective shipping and to eliminating common international shipping delays related to VAT or customs.
The last thing you want is for your delivery to be stuck in customs past your virtual event date, or for your customer to have to actually pay locally to receive your promotional campaign.
In addition, a partner with promotional product expertise can provide guidance to ensure you select branded items and packaging options that will both delight your customers and minimize shipping costs.
We understand that your particular business is unique, so we invite you to get in touch to find out how much we can reduce the FedEx/UPS line item in your marketing budget. In just a 30 minute consultation, we can analyze your shipping costs and offer solutions to save you thousands.
Contact us now to learn more.