As the importance of great, compelling content grows and grows, your marketing team's need to access, customize, produce and distribute marketing and/or customer materials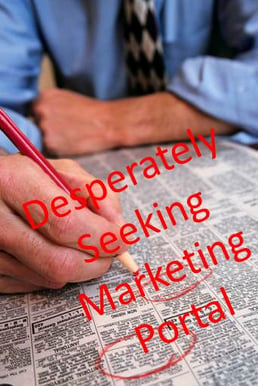 goes through the proverbial roof. Do they have such access?
Can they easily and reliably get their hands on the most current data sheets, corporate brochures, logos, videos and other digital assets when they need to? Is all of this vital information housed in one easy-to-use location…that they trust?
The answer to this growing need of companies from coast to coast is found in an online marketing portal, or sales portal. The more dispersed your sales team, the more critical this resource is to your success. Immediate access to your entire collection of marketing materials, logos, photographs and other digital assets depends on an online portal. Without one, your team members are left scrambling. They're on their own, hunting at random for content that may or may not be accurate.
Here's some content your team typically needs easy access to:
Marketing materials. Brochures and sell sheets, for example, that are kept up to date, complete with pricing, product features and purchasing information.
Promotional items. Company-branded materials like T-shirts, hats, mouse pads, calendars, golf balls, etc.
Graphic resources. Every company has tons of digital assets like photos, logos, and videos that can be useful in building customer or partner relationships or in customer acquisition. And complex corporate identity guidelines surrounding acceptable use of logos and taglines can be simplified by your online portal – where only the correct versions are made available.
Official compliance verbiage and copyright information. Some industries, such as financial services, have strict verbiage that must be part of certain corporate documents. Housing key information about compliance verbiage or copyright guidelines for your products on your online portal will ensure proper usage.
Your personal digital assets. Team members can save samples of their own customized sales tools, logos, photos and other materials in a place on your portal that's theirs and theirs alone.
Event materials. Use your online portal to store all of the different materials your team can access and order for events large and small: table signage, banners, name badges, and wall graphics, for starters.
The importance of a robust, customizable and user-friendly online marketing portal is significant:
It becomes the key repository of your current and approved corporate digital assets.
It puts all of these assets in the hands of every team member who has access to it, regardless of geography, whenever they need them, thereby giving them tools to function efficiently and competitively.
It serves as an ecommerce site for your team, letting them order the materials they need (print and promotional) and get speedy delivery and fulfillment.
It protects your brand's visual integrity. An online portal that is built to house your firm's most important digital assets will ensure that these assets retain their graphic identity. With the proper procedures in place, it helps prevent mavericks from going outside the portal to order materials on their own.
The bottom line is this: a single, centralized online marketing portal streamlines your process, saving you time and money, and protects the brand integrity of your digital assets.
With the right online marketing portal, you control access to assets and materials, personalization, shipping options, approval rights, budget allocation, and more.