Since the pandemic, companies have been having to elevate their new employee welcome kits as a way to encourage prospects to want to work for them and keep them on longer. As new team members start their onboarding process, that first week of their new job is important for employee retention to make them feel like they are part of the team. That first day of work is that new hire's first impression of your company values.
What are new hire kits important? That new hire kit filled with your company swag and goodies can be the key to your employee onboarding and help improve company culture. It can be the thing that enhances that persons onboarding experience on their first day in the workspace. Employee welcome packages can also be a great form of marketing with all the branded products!
So what should an onboarding kit contain? After helping build numerous new hire welcome kits for our customers, we have noticed commonalities and trends that have become essential in every welcome gift. Here is a checklist of welcome kit ideas for you to consider for your company's new hires: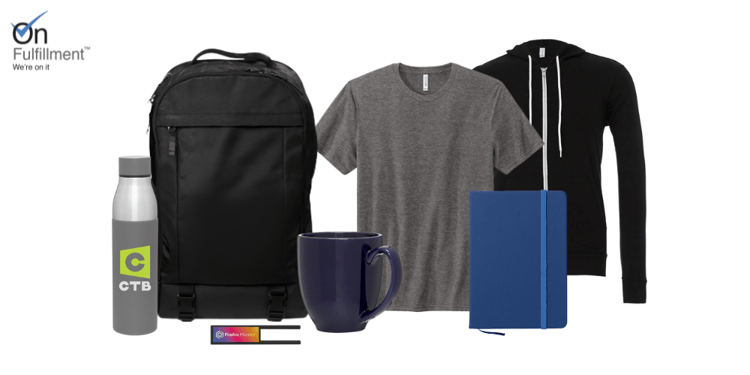 Cool Packaging: The First Impression
The packaging is what can bring an onboarding kit from a simple '"thank you" email to a social media post with an image of all their cool new swag (free marketing!!). It could be a creative box, a custom bag or even a branded backpack or tote bag to hold your stuff in, you can't go wrong!
Wearables: The Team Look
Nowadays, it is all about sporting that company team look! Having everyone in the office wearing branded t-shirts and hoodies just like the ones in your employee onboarding kit can make a new hire feel more included and part of the team on day one.
Drinkware: The #1 Promotional Product
Water bottles, tumblers, coffee mugs, and more! The most searched promotional product the past few years is probably the most used promotional product your new team member will get. A great product to use in the office, on the road or at home.
One to Two Other Products: Something Useful or Unique
Each kit should have at least one additional product in addition to the products already listed. Whether its office supplies or other products with your company logo on it, those products are another chance to get your logo in their hands! The most common products that we have seen added to the welcome box are notebooks, stickers, tech accessories and even toys.
Printed Collateral: Make it Personal
A welcome letter (or even a handwritten letter) can add a personal touch and make any new employee feel welcomed to the team! On top of welcome letters, any collateral that may be needed to get them started.
Does your human resources team need help with new hire kits? Contact us for how we can help take them off your hands, and make sure to follow us on Linkedin for more swag ideas for your team!