By now, you've probably heard about the disruption in the global supply chain causing massive delays and shortages around the world. Unfortunately, this is all occurring just in time for the holiday season, which means there will almost certainly be some changes in the way we plan.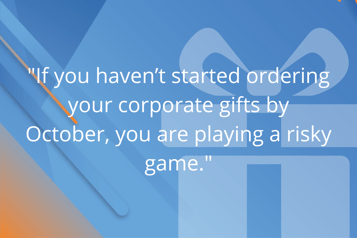 Simply put, if you haven't started ordering your corporate gifts by October, you are playing a risky game. Here are a few helpful tips to avoid the holiday headaches and improve the odds of a smooth, timely delivery experience.
Stay away from the brand names.
The most popular brands are likely to be the ones most impacted by what's going on with the supply chain right now. As much as you'd like to order your go-to favorites, your chances will be much better if you consider off-brand items. The good news is, there are plenty of options to choose from, and many are just as good, if not better quality than their more well-known counterparts.
Be ready to order.
The days of window shopping and price comparing are gone, at least for the time being. If you have an idea of what you'd like to order, you should do so as soon as possible to avoid potential disappointment. You may not be able to get the best possible deal, but at least you'll get the items you order in time for the holidays.
Have a plan B.
Understand right from the start that you may not be able to fulfill everything on your wish list. To prevent additional delays and added frustration during the holiday hustle and bustle, come up with a few alternatives for each gift. That way if you discover that your top choice isn't available, you'll be able to quickly pivot without having to worry about further delays.
Keep in mind the holiday transit times.
Transit times are already extended through the holidays for UPS, FedEx and USPS. The further we get into November, the harder it will be to guarantee delivery in time for the holidays. In other words, make sure you order with plenty of time to spare. Remember to also take into account shipping black out days, like Thanksgiving, as you plan your orders.
Keep it simple.
Let's be brutally honest. Custom items are most not likely to make it for a 2021 delivery. Fortunately, there are plenty of alternative options to consider, at least for this year. For instance, you can decorate non-branded items with labels or other branded packaging. Or, you can dress up simple branded items with festive wrapping. Don't be afraid to get creative.
OnFulfillment has the expertise to make your corporate holiday gift giving as efficient and cost-effective as possible, even during these unprecedented times. Get in touch today to get the ball rolling before it's too late!