The dog days of summer are upon us. Long, hot days. Memorial Day is a distant memory; Labor Day is still nearly a month away.
Sounds like it's time to get started on your holiday shopping.
Staying a Step Ahead
It's not as crazy as it sounds. If you are in marketing, sales or human resources and you're responsible for procuring holiday gifts for customers or employees, there's no such thing as "too early." Unlike shopping for friends and family, corporate gifts must be purchased in bulk. To guarantee the items you want are available in the volumes you need, getting a jump on the competition is just best practice.
Unfortunately, many sales, marketing and HR employees haven't learned their lesson and wait until after Thanksgiving to order their corporate holiday gifts. That's a big mistake.
In our experience, if you want your gifts to arrive before the end of the year, you need to get orders in before the end of October at the very latest, and even that's cutting it close. September is actually better, for any number of reasons. That means you need to start working out the details, including quantities and potential customization, in August. And to do that, you have to start working out your budget, browsing your catalogs and considering your options…well, now.
Why So Early?
We know, it seems incongruous to think about holiday gifts during these warm days of summer. But if you delay, you do so at your own peril. And it's not just about availability (although that's a large part). There are any number of reasons that ordering early is to your benefit.
First and foremost, it's a simple matter of "first in, first out" logistics. In other words, the earlier you submit your orders, the earlier they are filled and shipped. While you may have to deal with a short-term storage issue, it beats the stress of waiting for shipments to arrive as the days of December tick away. Peace of mind is priceless.
Second, you need to think about available inventory. The longer you wait, the fewer choices you'll have, especially if you're looking at brand-name items like Yeti, Nike, North Face and the like—products that sell out quickly. If you are considering branded apparel as gifts, you not only have to worry about availability, but there's the added risk that vendors may run out of the sizes you need. The earlier you place your order, the greater the chances you'll get what want, in the sizes you need.
Third, there's the supply chain issue. While conditions have improved considerably over the past several months, global port congestion is still an issue. The COVID pandemic and subsequent port closures in China have been replaced by work slowdowns, high demand for consumer goods, the Russian invasion of Ukraine, inflation, and mounting concerns of recession. Consequently, there's no guarantee branded merchandise produced overseas will arrive in a timely manner. The earlier you get your orders in, the less likely your swag will get caught in an import or customs trap.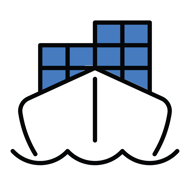 Exacerbating the import issues is a well-documented worker shortage. Some vendors are having difficulty maintaining adequate staffing levels even during the summer; the chances that they'll be able to ramp up headcount for the coming holiday rush are slim. Couple that with a pending UPS strike at the end of July that could extend into the critical holiday months, it's not worth the risk of waiting to find out what the impact might be.
Finally, the longer you wait to order, the more you compete with the holidays themselves. And as we all know, at least in the U.S., business activity tends to slow considerably after Thanksgiving and continues that way through the New Year. Workers take more time off, they are distracted by their own personal holiday responsibilities, and many companies even shut down for the holidays. That means there is a good chance that anything ordered after Thanksgiving may not arrive until sometime in January—long after the holidays are over. Nothing dulls the impact of a holiday gift like a late arrival.
Get Started—Now!
OnFulfillment can assist you in your holiday shopping starting today. We have great relationships with the top name-brand suppliers in the industry. We know what's currently available and what's coming, helping you stay a step ahead. And we use state-of-the-art software to source high-quality and trending swag from one to 1 million pieces.
Take a look at our online store. If you can't find what you're looking for, just let us know—we'll find it for you. To request a meeting, just visit fill out the form on our "Contact Us" page—we'll be happy to share our expertise with you.