This week employees, friends & family of our team, and customers of OnFulfillment donated more than 4000 pounds, or 39 full boxes, of needed clothing and goods to help victims of Typhoon Haiyan (known as Typhoon Yolanda in the Philippines).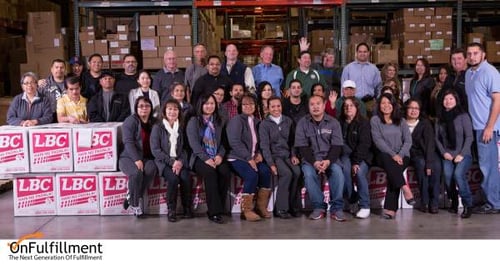 As you've likely heard, Typhoon Haiyan caused catastrophic destruction in the central Philippines, particularly on Samar Island and Leyte. According to UN officials, about 11 million people have been affected and many have been left homeless.
Working with the Philippines Red Cross organization, OnFulfillment staff took the lead and identified the goods most needed by typhoon survivors in the Philippines - blankets, clothes, shoes, towels, canned food, toiletries, light jackets and socks. They then set out to collect the needed items from fellow employees, as well as their friends and families. Our awesome and generous customers also chipped in with donations.
Freight costs and shipping boxes for the 4000 pounds of goods was provided for free courtesy of LBC Corporation, a courier, cargo and remittance company that has been serving the Philippines for the past 60+ years. LBC is accepting in kind and cash donations for Typhoon Yolanda victims until November 30, 2013. All donations are going to LBC Foundation/Philippine Red Cross. Donations can be made by visiting any LBC branches or warehouse.
Donated goods should reach the Philippines before the Christmas holiday. The Philippine Red Cross will administer the distribution of the donations. We'd like to thank everyone who donated - our staff, their friends & families, and customers!
If you'd like to help, you can drop in-kind donations to any LBC branch as noted above - find a location here. Or you can donate online to one of the following organizations that are working on the ground in the Philippines providing emergency medical care, food and water, and other needed assistance:
For a more complete list of charitable organizations assisting in the Philippines you can also go here.