USPS rates are going up. Again. First-class rates will go up on January 26, 2014. Key pricing, according to the USPS web site, will be as follows:
Letters (1 oz.) — up $.03 to $.49
Letters additional ounces — $.01 increase to $.21
Letters to all international destinations (1 oz.) — $1.15
Postcards — $.01 increase to $.34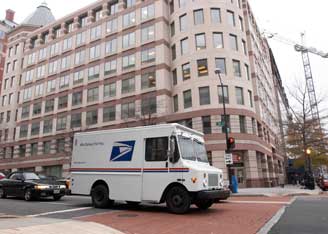 What can marketers do to help contain mailing costs? Here's an idea: Take advantage of one of the work-sharing programs recognized by the USPS. By combining your mailings with that of other companies, you'll save postage. Chances are good that if a commercial printing company is handling your direct mail services, they can help you set up one of these mailing programs.
The three work-sharing programs are co-mingling, co-mailing, and co-palletizing.
As these terms suggest, they require "co-operation." In each case, your mailings are processed with mailings of other customers. Everyone saves! Here's a snapshot of what each term means.
Co-mingling – Like most marketers, you probably have mailings that go out nationally. If your mail pieces are "mingled with" pieces from other companies, you'll create a much larger distribution for the post office – and thereby qualify for lower postage rates. This process is for letter-size mail and is done at a "Presort Service Bureau" that utilizes Optical Character Readers (OCR) and Barcode Sorters (BCS). This work is done before it gets to the post office – and it saves you money.
Co-mailing – This service is typically used for Periodical mailers (publications). It combines "Publication Titles" onto pallets going to the same destinations. It can be done by selectively binding multiple publications at the same time during the binding process (AKA "co-binding"), or it can be done offline after the publications are bound.
Co-palletizing – This is an offline process that combines different companies' trays of mail onto the same pallets going to the same destinations. Basically, your publications or letter-sized mailings are bundled with similar mail from other companies and stacked on the same pallets, which are then drop-shipped to the post office. This program yields you postal savings more that expedited delivery. Noncritical delivery dates are therefore key.
What are the benefits to these work-sharing programs? Substantial discounts. These apply for presorting, palletizing, and drop shipping. In addition to seeing some postage savings, it's also true that often, your publications arrive in better physical condition. Sometimes you'll see increased tracking ability, too.
You should begin by discussing your mailing options with your commercial printer and fulfillment provider. By combining your mail with that of other companies, you could potentially realize significant postage discounts. Make sure you find out what your service providers' charges will be for their programs. Your net savings will depend on the final postage discounts minus the fees charged by your third-party providers.
Need more advise on controlling fulfillment costs in 2014? Contact us for more information.