When people talk about printing, they usually focus on the front end of the process – the design, the size, the format, the colors (like 4C and PMS colors), the paper, and the printing itself – digital, offset,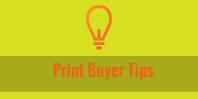 and screen, to name just three.
But let's not forget the "back end" of the process – the stuff that happens to a print job after it comes off the press.
Post-press operations are a combination of binding and finishing. When printers and professional print buyers talk shop, they generally speak of "bindery work," even though certain finishing processes might be involved.
We thought it would be helpful to marketers if we identified common binding and finishing techniques, so when it's time to discuss your post-press options with your printer, you'll be an expert.
Common Binding Techniques
Saddle-stitching – Most magazines are saddle-stitched. Notice the two staples that are stitched into the spine of a magazine, allowing the pages to lay flat when you're reading them. This is a very common binding technique for brochures, calendars and catalogs, too. What's great about saddle-stitching is that it can accommodate other items, like envelopes, inserts and forms that get stitched into the spine.
Side-stitching – Sometimes you'll want to staple an entire stack of sheets from the edge of the paper, not through the spine. Obviously, this will mean your finished product will not lay flat.
Perfect binding – Take a look at a paperback book, and you'll see an example of perfect binding. Signatures of pages are gathered, trimmed, and glued together. The glue is applied along the spine, and while it's still wet, the cover is applied.
Mechanical binding – There are a few types of mechanical binding that are commonly used for training materials, technical manuals, even cookbooks. They're ideal for their practical application: use them when you need your product to lie flat. With a wire spiral, a printed product can be doubled over as well as lie flat. You might recognize a few common brand names for mechanical binding techniques, like GBC (plastic comb) and Wire-o.
Common Finishing Techniques
Finishing is a very broad term in printing. It covers a lot of different operations and specialties, including folding, die cutting, laminating, and shrink-wrapping. Here are some of the most common finishing techniques:
Die cutting – There's steel-rule die cutting and laser die cutting, and when a printer needs to cut a particular shape into printed materials, die cutting is the process used. Pressure forces the die through a stack of paper to create a specific shape. Think about pocket folders and paperback book covers or annual reports that have windows cut into them. These were achieved by die cutting.
Shrink wrapping – If your perfectly printed materials reach their destination wrinkled or otherwise damaged, they should have been shrink wrapped. For this process, a thin sheet of plastic is wrapped around the bundles to protect them during shipping and delivery.
Embossing & debossing – Printers can create dimensional images on your printed sheets after they come through the press and before they get folded or bound, and these are two such examples. In each case, dies are created in the shape of the image you want to appear on the paper. The paper is pressed between two matching dies to create a third dimension on your printed sheet. The paper fibers are lifted and sculpted by the dies. An image that's raised above the paper's surface is embossed; an image that's created below the surface is debossed. These techniques are commonly seen in corporate stationery and annual reports.
Foil stamping – Also called leaf stamping, foil stamping adds quite a visual impact to your printed materials. It's the process of applying a pigment to paper or plastic. There are hundreds of colors to choose from, and most are of bright metallics, though there are also satin metallics, gloss and matte pigments, pastels, pearls, and holographic foils. They come on rolls and are applied using a die, heat and pressure.
Your commercial printer can handle many common binding and finishing techniques, but in some cases, specialty shops are needed and these operations will be outsourced.
Remember to involve your printer early in your discussions when you plan a print job. It's especially important if you have specialty finishing in mind.
New to print buying? Learn more here.