Let's imagine that you manufacture medical equipment, which is sold by dozens of channel partners all across the country. They may be product distributors, retailers, VARs (value-added-resellers),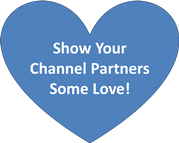 dealers, or other organizations.
As the manufacturer, how are you managing the marketing campaigns for your equipment for all of these channel partners? Without a robust and sophisticated online solution that you control, it could turn into a logistical nightmare.
Maybe you're launching a special promotion for new customers, offering 10% off the base price of your equipment for a limited time. Your channel partners hail from Philadelphia to Seattle and every city in between. Your creative team has designed a marketing campaign that includes customized direct mailers as well as an email component.
How will this promotion be launched so that it's consistent, accurate and customized?
Add to this the fact that every channel partner has its own brand ID (company name, logo, color palette, mailing address, maybe other graphics). Just how will you produce a national marketing campaign that must reflect each channel partner yet incorporate key elements (like proprietary data) that you control?
The answer is a channel marketing software. The channel marketing system you use must have built-in flexibility and customization for your channel partners, while enabling you to maintain complete control over the message and the digital assets to which they have access.
If you have channel partners, and you start looking at a sales or marketing portal to invest in, it's vital that the solution you choose offers you co-branding functionality. Your channel partners won't have to reinvent marketing campaign materials (saving them time and money); you won't have to police their marketing campaigns (saving you time, money and headaches); and the marketing efforts across all channels will be consistent, professional AND customized.
Think about it: your partners will be able to go into your marketing portal, access the campaign materials, brand the materials with their own corporate I.D., upload their own prospect or customer mailing lists, customize the materials with images you've pre-authorized, and process the orders to print and/or email.
This means your Boston partners can substitute images of Cape Cod and Faneuil Hall, for instance, while your St. Louis partners might use pictures of the Gateway Arch or the Stan Musial statue outside Busch Stadium.
Having a marketing portal with this level of functionality and personalization for your outside partners means they're empowered – and not always needing to get your permission to produce marketing materials. Templates built into the portal are easy to access, customize, and send to print and mail. All the while, your proprietary data is safe and sound.
Your corporate marketing campaigns will be consistent yet personalized. You control the message and key data. Your partners can tailor the materials with their own brand for their specific market.
It's an automated channel marketing system that serves you, the manufacturer, as well as your channel partners. Once it's set up and training is conducted, you'll be able to set your marketing campaigns in motion. It's a system that you'll never want to be without.