This is the third in a series about integrated marketing campaigns. If you want to be kept updated on new posts, subscribe on the form to the right. Read Part 1 and Part 2.

Step 3: Mix in Some Email
Are you practicing "contextual marketing" yet? A recent post by Amanda Hinkle on Email Insider highlighted this growing trend for 2015, and the importance of relevant emails in B2B marketing strategy.
She wrote, "If your organization does not have the ability to capture and leverage a significant amount of data for personalizing and "right-timing" your customer communications -- including data relevant to the current state of the customer (location, device, environment, past behaviors, etc.) -- you risk fatiguing your customers with non-relevant messaging and falling behind competitors who are doing it right."
Your email marketing needs to be relevant, too. As Ms. Hinkle notes in her post, industry authority "eMarketer reports that over half of all B2B marketers have completely adopted marketing automation into their sales and marketing tactics to increase the relevance of their customer engagements."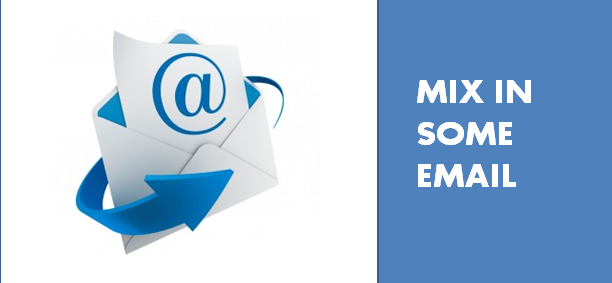 So does email play a role in your integrated print & web campaigns?
It should.
Automated marketing systems are powerful, and if you're creating a direct mail campaign through your marketing portal, automated emails should be a part of it. If your contact databases are comprehensive, they'll include email addresses. Since you have this data, you should use it strategically.
Sending automated emails during a marketing campaign would work like this:
Imagine that you're sending a postcard campaign to your list. It's a list you can purchase from within your portal, upload on the spot, or you can select it from a list that's already been uploaded.
Did you know that you can pre-schedule a follow-up email before you even send the postcard? Maybe the campaign is to help promote an upcoming event, so the postcard invites everyone on the list to go to an event URL and register.
You can pre-schedule that follow-up email to go out on a certain date, or even base it on X number of days or weeks since each person was mailed the postcard. And don't settle for one common email message: the software lets you customize your email messages based on each recipient's action. So you can craft and pre-load different email messages that the software will automatically send. For example, someone who opens your first email will get one response, as opposed to someone who never clicked on it. And if someone clicks on a link that was included on your postcard, he or she will get yet a different customized email message.
Likewise, the system can be set up to automatically send a follow-up email from a member of your sales team when someone does respond to the direct mail campaign. That action could trigger a note to the sales rep to make a sales call to a qualified lead immediately.
All of these actions take place automatically, through a series of triggers. At each stage of your multichannel campaign (postcards sent, emails sent, links clicked, etc.), data is captured – and the next action pre-scheduled for this campaign is set in motion.
You can also use the responses generated from your email to direct qualified leads to a personalized URL (pURL), which in turn will lead to better response to your campaign.
An added benefit is that the results of each step of your marketing campaign are captured and tracked in real time, allowing you (and your sales team) to see which phase of your integrated campaign is most effective.
Compound the power of your integrated print & web campaign by creating a series of automated emails as part of it. Once you set up the triggers and the various messages, the system handles the rest.