We were excited to learn that our client, SunPower, is a sponsor and partner of the Solar Impulse. SunPower Maxeon™ solar cell technology powers the Solar Impulse, a prototype solar airplane that is powered entirely by the sun. Solar Impulse landed Sunday at Washington Dulles International Airport, its second to last leg of a cross country journey which started in San Francisco at the beginning of May and ends in New York in July.
We learned about SunPower's partnership in this ultra cool project when they contacted their business development manager, John O'Brien, to inquire about a special project to create a commemorative solar cell in honor of the 2013 Across America mission. I spoke to John to get more details on this project and SunPower.
How did you learn about SunPower's partnership with the Solar Impulse project?
John O'Brien: SunPower contacted me to do a special project - creating and delivering a commemorative solar cell in honor of the completion of the Across America flight. The flight started out here on the West coast, where both SunPower and OnFulfillment are located. After stopping at several cities across the US, the plane landed in DC on Sunday, and then goes onto New York as the final stop, I think mid-month.
How will SunPower use the

commemorative

solar cells?
JO: We've worked with SunPower in the past to create similar gifts. The solar cells will be given as gifts to government dignitaries during the current stop in DC, and also to folks in New York later this month.
How did you create this promotional product?
JO: These "faux" solar cells needed to meet a high standard of quality, especially given the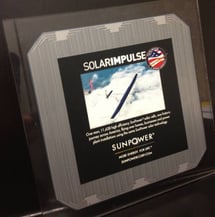 VIP status of the folks these are being given to! Several years ago, before working with us, SunPower had another supplier, and the product was thinner and not as authentic looking. Real solar cells are black glass, and so, of course, you cannot see the circuitry inside. To make the "faux" cells look more realistic, yet show off the inside circuitry, we did them in a clear acrylic with multiple layers - they are about 6"x6". The specific commemorative details are applied using a special silk-screening process in a 3"x3" area of the acrylic base, allowing you to still see the circuitry.
SunPower uses these promotional items for multiple purposes, and even has some more generic versions available for their distributors to order in their MRC (marketing resource center, or marketing portal). For the Solar Impulse version, we used a beautiful graphic including a photo of the airplane to be applied to the "faux" cell.
Does SunPower do special projects like this often?
JO: I love working with SunPower as a client. Their solar products are on the bleeding edge of technology, and their marketing team is also always looking to 'push the envelope'. They have great, creative ideas. I have helped them with many special projects. Last week when I hand delivered the Solar Impulse solar cells, I met with 6 or 7 different members of their team, at 2 locations, to talk about 5 different projects. But they also maintain a standard set of marketing assets and campaigns in their MRC for both corporate marketing and their dealers to use.
Tell me more about how SunPower uses their MRC?
JO: SunPower maintains a Marketing Resource Center, which allows their marketing and sales teams, as well as their dealers, to access and order marketing materials on demand. As with all of our clients, by using an MRC, we are able to provide SunPower with regular analysis on SKU usage so they can optimize which pieces they print and warehouse versus what they print on demand. The MRC includes both printed pieces like brochures, and promotional items, like the "faux" solar cell. SunPower also uses their MRC to empower their dealers to customize and send integrated, multi-touch direct mail and email lead generation campaigns.
Thanks to John for his time and insight into this creative client. Because we provide services to a wide variety of customers, we have a unique opportunity to learn about new and exciting marketing projects from multiple viewpoints and in multiple industries. It's always exciting to see our clients succeed with new and creative marketing ideas. We'll be keeping our eyes and ears open for the final leg of the Across America tour, when the Solar Impulse flies from DC to New York in early July!