Large Format Printing for the Largest Jobs
When you really want to grab people's attention, you need to go big. Banners, billboards, building wraps—that sort of thing.
These items need to be printed, too. And they require a special set of skills and resources, know as "large-format" printing.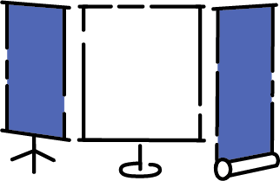 OnFulfillment offers high-quality, large-format printing services (also known as grand-printing services) for posters, signage, displays—whatever you need to stand out at your tradeshows, conferences, seminars, or other marketing events. From wall and window graphics to murals and vehicle wraps, OnFulfillment delivers large-scale printing services with the highest possible quality.

Unlike traditional printing methods, which print on single sheets of paper, large- or wide-format printing uses rolls to produce large-scale advertising or promotional materials such as posters, wallpapers, and murals. This gives you virtually unlimited space—and freedom—to really express yourself. It's the best way to get your message across in a noticeable—and memorable—way.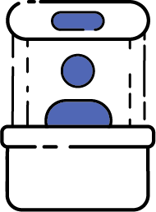 We offer a variety of durable material options, including vinyl, canvas, and mesh, designed to stand up to the elements. Whether full color or custom black and white, we print our high-quality, high-resolution large-format items using the latest offset or online digital technology.
When you need to go large, go OnFulfillment.
To learn more about OnFulfillment's approach to print fulfillment services, read our collection of print fulfillment blogs.
Need Help With A Large Format Print Job? Let's Schedule A Demo.
Frequently Asked Questions About Large Format Printing
Q: What is large-format printing?
A: Large-format printing is, as the name implies, the process of printing images or graphics that are too large for standard commercial or offset printing presses. Posters, promotional stands, banners, signage, building and vehicle wraps, etc. — these are all typical candidates for large-format printing services.
Q: What kinds of materials can be used with large-format printing?
A: Large- or wide-format printing can work with a wide variety of materials. In addition to both coated and uncoated paper, you can use large-format printing with vinyl, canvas, cloth, foams, fabrics, PVC plastics, even metal and wood. Or course, the material you use depends on the use; for instance, vinyl and canvas are best for outside applications where the material will be exposed to the elements.
Q: What is considered a large-format print project?
A: As a rule of thumb, any job that requires a final product that exceeds 14 x 20 inches can be considered a large-format printing project.
Q: Besides size, are there any other reasons to consider large-format printing?
A: Large-format printing can offer some significant competitive advantages compared to other printing methods. First, large-format pieces have a much greater visual impact, making it a wise investment in the right conditions. Plus, large-format printing isn't limited to paper; it applies to a variety of applications ranging from billboards to building and vehicle wraps, providing an opportunity for your brand to really stand out.