Offset Printing Services for Large Print Runs
OnFulfillment offers traditional sheet-fed four-color offset printing services for jobs where digital print-on-demand solutions aren't enough.
Offset lithography is typically used for large quantity runs of high-use items that don't change frequently—materials such as data sheets, brochures, books, and white papers.
Although more expensive and requiring longer lead times than web-based print-on-demand approaches, offset printing delivers a superior product with higher resolution and better quality—characteristics that reflect well on your business.
OnFulfillment can manage your offset printing projects from beginning to end, handling all press checks and quality control as requested. Once the material has been printed, OnFulfillment will ship the product to its final destination, whether an event or a warehouse.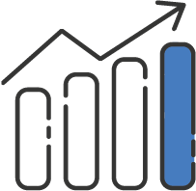 Through your portal, you can monitor real-time inventory levels and order new print runs when quantities are running low. Offset digital printing is also supported, allowing you to upload files and submit for production, offering the convenience and efficiency of online web-based solutions.
Do You Think Your Print Job Requires Offset Printing? Let Us Help You Find Out!
Frequently Asked Questions About Offset Printing
Q: What is offset printing?
A: Offset printing is an efficient way to mass-produce large quantities of high-quality printed materials quickly. The process uses a large press to transfer ink from a plate to a rubber sheet which rolls the ink onto sheets of paper (or other surface). Offset printing offers more precise color matching and higher-quality results than digital web-based print-on-demand. However, digital printing is a more cost-effective and eco-friendly option for smaller quantity print runs.
Q: What is offset printing good for?
A: Offset printing is designed primarily for large print runs that require precision coloring and different print surface options besides paper.
Q: Is offset printing high quality?
A: Offset printing produces high quality results because each job has its own dedicated plate. This allows you to print materials that need exact color matching or require larger quantity runs.