Experienced Educations Services teams know that print & fulfillment of training manuals can be one of your largest expenses. A comprehensive Courseware Management Program can help you gain control over those costs.But how do you know that a comprehensive Courseware Management Program is right for you?
Download your free eBook to learn: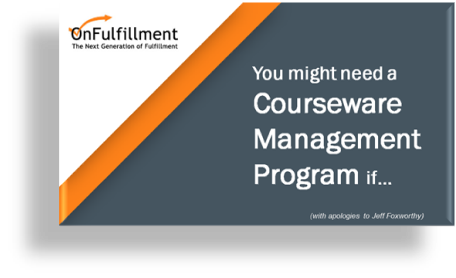 The top 9 reasons training organization's need a courseware management program
Why document eDelivery can protect your courseware from being shared without authorization and save you money
How custom courseware development is saving training teams 25% or more in print & fulfillment costs
Learn how other education services teams are cutting costs, providing better customer service, and driving more revenue with courseware management.
Complete the form to receive your free copy of the eBook "You Might Need a Courseware Management Program If..."